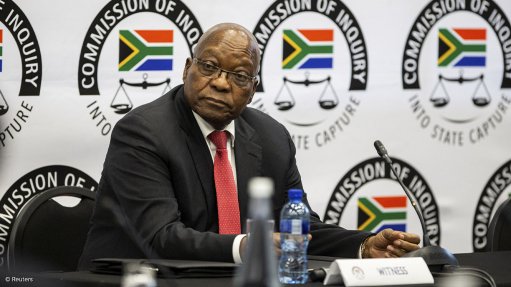 Former President Jacob Zuma
Photo by: Reuters
Former president Jacob Zuma has accused Deputy Chief Justice Raymond Zondo of being dishonest about the "close personal relationship" which he says they shared over the past three decades. He has argued that the dispute reinforces why Zondo should recuse himself as the chairperson of the state capture commission.
"I have noted that the chairperson, while accepting that our relationship was cordial and pleasant, disputes that we were friends. I dispute that we were never friends," Zuma states in an affidavit filed at the Zondo commission of inquiry on Wednesday morning.
Zondo was expected to rule on Zuma's recusal application at 15:00 on Wednesday, but has delayed the decision until 10:00 on Thursday.
In that statement, Zuma argues that "it is a trite principle of law that a judge cannot sit in his own case or in the adjudication of factual disputes arising from his own statement of facts judged against allegations raising disputes with his statement".
In other words, Zuma appears to be suggesting that Zondo's statement about their disputed "personal relationship" may be further grounds for him to seek the deputy chief justice's recusal in another forum.
Earlier this week, Zondo addressed Zuma's claims that he should have declined to serve as chairperson of the commission because of the personal connection that the two shared. In recent weeks, Zondo publicly disclosed that he fathered a child with the sister of Zuma's estranged wife, Thobeka Madiba-Zuma, 25 years ago, but insisted that this relationship had "no bearing" on his work as inquiry chairperson.
Discussion
This week, Zondo outright denied Zuma's evidence that they had previously discussed the potential impact Zuma's position may have on Zondo's judicial career.
"No such discussion ever take place, nor could have taken place between Mr Zuma and myself when I was elevated to the Bench," Zondo said.
"My elevation to the Bench occurred in 1997. Mr Zuma says that he understood and appreciated that I wanted to draw a line in my relationship with him so as not to create the public perception that I relied on him, as president, to rise in my judicial career. Mr Zuma was not president in 1997. He was MEC for Economic Development in KwaZulu-Natal. As he was not president and was only an MEC, he could not have had any influence on my rise in my judicial career."
In response, Zuma has accused Zondo of trying to portray his political status in the 1990s as "insignificant", a claim he says is "untrue". He also insists that he and Zondo did talk about how "we should manage our friendship in such a way that it would not raise suspicion of impropriety or hinder his judicial ambition" during a discussion at his Forest Town home.
"Although the chairperson seeks to diminish my role at the time, I was part of serious discussion in the country. During President [Nelson] Mandela's administration, the African National Congress was consulted on a wide range of issues regarding judicial appointments.
"One of the critical challenges at the time was that while there was a need to transform the judiciary, there was a shortage of black legal practitioners who could ascend to the bench.
"I understand that in referring to me as 'only an MEC' the chairperson is attempting to downplay my role in order to demonstrate that he couldn't have relied on me for his ascendancy.
"It is common cause that at the time, I was also the national chairperson of the ANC and the provincial chairperson of the ANC in KwaZulu-Natal. These were indeed positions of influence within the ruling party the ANC."
Zuma further argues that Zondo falsely claimed that he had "never been" to his presidential office or his official residence.
"The improbability of this assertion by the chairperson is obvious. I assume that the period of my presidency to which he refers includes the very period during which he was selected by the chief justice as the judge who would preside over the commission. As a matter of fact, soon after the chairperson had been selected by the chief justice, I held a briefing meeting with him at the official residence in Durban".
Zondo revealed in his second public statement about his relationship with Zuma that he had visited the former president at his Forest Town home between 2005 and 2007 – the period in which Zuma was no longer in government, because he had been fired by then president Thabo Mbeki.
"There was one time when I also asked for a meeting with him about 13 or 14 years ago when he was still out of government and I met him in his Forest Town house in Johannesburg," Zondo said.
"On that occasion I wanted to raise with him a matter that I considered to be of public importance."
Zuma disputes that version of events.
"My meeting(s) with [Zondo] in Forest Town was during my tenure as the deputy president of the Republic of South Africa. In fact, we met several times in my residence at Forest Town.
"While the chairperson is at pains to suggest that I was neither his friend nor a person of influence and/or in government, he however had to come to me to discuss a matter he considered to be of public importance. The chairperson fails to state why he would discuss a matter of public importance with a person who was neither his friend nor a person in government or person of influence".