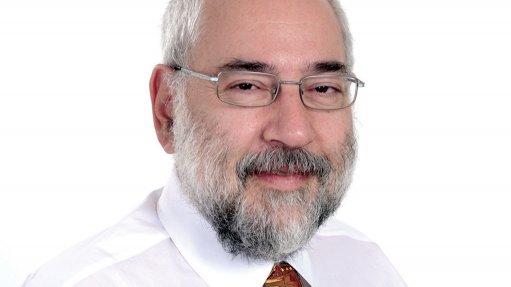 Wits Director of Innovation Strategy Professor Barry Dwolatzky
The University of the Witwatersrand (Wits) has announced the passing of Wits Director of Innovation Strategy Professor Barry Dwolatzky, who was the founder and director of the Joburg Centre for Software Engineering (JCSE), as well as the founder of innovation hub the Wits Tshimologong Digital Innovation Precinct.
He was also instrumental in conceptualising, developing and imagining the Wits Innovation Centre, which was launched in April.
"Dwolatzky was an innovator, a strategist and a humanitarian. His passing is a great loss to the Wits community where he touched the lives of students, staff, researchers, academics, industry partners, innovators, entrepreneurs and friends in many ways.
"In addition to his many achievements and awards, he will be remembered for his humility and humanity, and his ability to make every person with whom he came into contact feel special. The Wits Flag above the Great Hall will fly at half-mast [on May 17] in honour of Professor Dwolatzky. May he rest in peace, knowing that his legacy will live on for generations to come," the university said.
"Young people have the creativity and energy, the drive and the reason to build a new South Africa, a new Africa and a new world. I believe in the future of our country. That is also the point of a university - to prepare people for the future," Dwolatzky said at the launch of his memoir 'Coded History – A life of new beginnings', in November.
Dwolatzky's primary focus over the past 30 years has been the growth and development of the South African software engineering sector. In 2005, he was the major driver in setting up the JCSE at Wits. In 2013, he spearheaded the establishment of a major digital innovation hub in Braamfontein which became the Wits Tshimologong Digital Innovation Precinct.
Tshimologong has attracted significant support from government and a range of major local and international companies, including the IBM Research Laboratory, Wits highlighted.
In recognition of his contribution to the South African information technology (IT) industry, Dwolatzky was named the South African IT Personality of the Year in 2013.
In 2016, he received an award for Distinguished Service to IT from the Institute of IT Professionals of South Africa, as well as the Wits Vice-Chancellor Award for Academic Citizenship.
Dwolatzky is a Wits alumnus who started his undergraduate studies at Wits in Electrical Engineering in 1971 where he continued to excel until he achieved his PhD.
After graduating, he left South Africa in 1979, and spent a decade in the UK as a postdoctoral researcher at the University of Manchester Institute of Science and Technology, Imperial College London, and the GEC-Marconi Research Centre. Over this period, he worked on a number of large software research and development projects.
Dwolatzky returned to Wits as an academic in 1989, worked his way up the academic ladder and became a full Professor in 2000. He continued with his teaching and research activities until very recently.
"South Africa has lost one of its most influential academics. We continue to celebrate his legacy and his impact and influence will reverberate through our society for decades to come," Wits said.