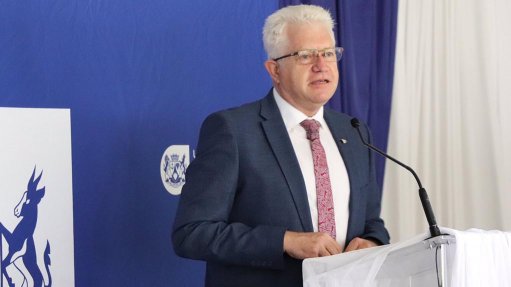 Western Cape Premier Alan Winde
Western Cape Premier Alan Winde says he is outraged after it emerged controversial Durban businessman Roy Moodley, who has been linked to several State capture scandals, was awarded a R282-million tender by the provincial government.
On Wednesday, the Daily Maverick reported it awarded the contract to Moodley's security firm.
The contract was awarded to Royal Security for security services for a period of two years at properties owned by the provincial government, the publication's Scorpio investigative unit reported.
Moodley founded Royal Security in the late 1980s.
He resigned as a member of the closed corporation in 2015.
Moodley's son, Magesh, has been listed as the entity's sole member.
Moodley, along with other entities linked to him, Royal Security being among them, has been implicated in some of the State capture cases during former President Jacob Zuma's tenure.
News24 approached Magesh for comment.
His comment will be added once received.
When contacting Royal Security, a receptionists said Moodley had not been involved in the business after he resigned, and Magesh was unavailable.
Winde said he was "outraged at the possibility that the provincial government could be in the position of doing business with alleged profiteers of crime".
He said: This is unacceptable, and I will do everything in my power to end this practice.
According to Winde, the Public Finance Management Act (PFMA) and National Treasury regulations were currently the province's only tools to exclude bidders from tender processes.
In essence it does not offer the province any assistance in cases where an organisation or individual is not blacklisted by Treasury or is not found to have committed irregularities in the actual tender itself.
"To this end, we are to an extent left to the wolves if organs of State, which previously dealt with such organisations, don't refer the matter to National Treasury to have them placed on the restricted list.
"Unfortunately, prior attempts to terminate contracts with such individuals were dismissed by the High Court, pointing out the limitations of the Treasury regulations," he said.
Winde added he raised the issue with Western Cape police commissioner General Thembisile Patekile when the matter was first brought to his attention earlier this year while dealing with another issue.
"We will be writing to the implicated company to raise our concerns about the allegations made regarding their practices and looking at other remedies available for us to deal with this glaring gap in the tender processes," he said.