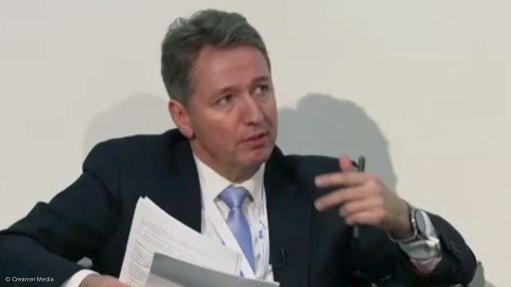 SFA (Oxford) CEO Henk de Hoop.
Photo by: Creamer Media
JOHANNESBURG (miningweekly.com) – Will it be 100% battery electric vehicle (BEV) dominance by 2035? That was the question posed in the title of the SFA (Oxford)'s Battery Metals Lectures on May 11, when slides projected a 45% BEV penetration of the light passenger vehicle market by 2030.
SFA, headed by CEO Henk de Hoop, forms part of the battery metals, platinum group metals and gold mining group Sibanye-Stillwater and the event coincided with the laying of the foundation stone of the Keliber lithium refinery in Finland, which is 79% owned by the Johannesburg- and New York-listed company, which is headed by CEO Neal Froneman.
Despite the slowing growth of total vehicle sales, there is a rapid growth in vehicle electrification, with the projection being 44-million BEV cars by 2030 globally, compared with 8.8-million last year. (Also watch attached Creamer Media video.)
Graphs displayed BEV development speed trailing the banning by countries of diesel and petrol mobility and highlighted France's planned banning of diesel mobility next year, petrol mobility by 2040 and internal combustion engine (ICE) sales by 2040.
With electrification, the automotive industry is shifting from being a direct consumer of electricity.
The shift is creating a long and complicated car battery supply chain, involving nickel laterite ore and spodumene ore mining and refining.
Former outwardly looking countries are turning inward to in-source mineral extraction and battery manufacturing.
National raw material dominance is presenting geopolitical risk causing car makers to directly source lithium, nickel, cobalt and manganese for electrified light vehicles.
Moreover, the decarbonising of the automotive industry is demanding cradle-to-mine-gate and cradle-to-grave life-cycle assessment embracing raw materials, disposal, product use, fuel or charging, logistics, processing, battery cell assembly and car assembly.
Nickel content per vehicle is poised to increase and chemical mixtures like lithium carbonate and nickel sulphate are gaining prominence.
The increasing battery demand is leading to a surge in demand for critical lithium, nickel, cobalt metals – cathode active and anode active materials, with Europe and North America facing a regional deficit for particularly anode active material.
Minimum recycled material content is being laid down, with Europe's proposal demanding a minimum of 12% recycled cobalt and 4% recycled nickel and lithium as at 2030.
Key takeaways from the presentation of S&P Global Mobility auto supply chain director Graham Evans on the BEV market and the global outlook, included:
the need for collaboration between countries that host abundant raw materials and those with the high demand for vehicles to achieve carbon neutrality;
battery life-cycle assessment being crucial to car manufacturers' decarbonisation strategy owing to the significant impact of BEVs on the carbon footprint of the entire value chain;
projected material deficits and prices posing challenges, with total battery demand for light passenger vehicles forecast to be about 3.5 TWh in 2030;
the need to ensure the flexibility of battery platforms to support diverse materials and capacities; and
the need for car manufacturers to progressively adopt battery recycling and reuse practices.
Volta Trucks sustainability principal David Amienyo reported that global lithium demand was projected to rise by nearly 3 000% from 2020 levels under a scenario where 40% of vehicles were BEV by 2050.
Under a scenario of 100% of vehicles being BEV by 2050, the need for lithium more than doubles to more than 7 500 %.
In the heavy-duty sector, battery-related critical metals used in heavy-duty electric vehicles could account for 62% of critical metal demand in the decades ahead, despite accounting for between 4% and 11% of the total road fleet in some countries.
Heavy-duty vehicles, Amienyo said, emit a quarter of greenhouse gas (GHG) emissions from road transport and 65% of the European Union's total GHG emissions, with estimates from the World Health Organisation showing that ambient air pollution is responsible for four-million premature deaths worldwide annually. This is, he added, giving rise to Stakeholder demands for stronger corporate action on environmental and social issues as well as unprecedented levels of public awareness and media coverage.