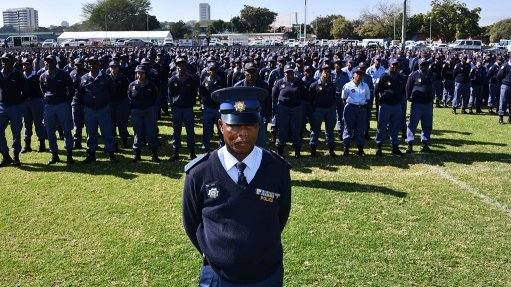 Police Minister Bheki Cele asked his officers during a parade in Mayfair on Friday morning, whether they were afraid of those participating in next week's planned national shutdown.
He asked: "Ni ya ba saba na?" (Loosely translated: "Are you afraid of them?")
And the officers responded: "A si basabi, siya bafuna!" (Loosely translated: "We are not afraid, we want them!")
Cele ordered the police force to ensure citizens' safety during the shutdown.
"Those who would be marching have a right to do so. There are restrictions, ways and measures to be followed. They don't have any permission or right to harm, disturb, or block South Africans about to go with their plans for the day."
Cele added that his officers should also protect those going to work.
"Nobody should block or occupy roads at the expense of other road users. Nobody should loot or force anybody to close their shops or businesses. You shall be there. You shall refuse and stop anybody from preventing others in the country."
Cele said officers should apply minimum force. He added they must not hurt or injure anyone.
"You have the right to fill prisons. All police trucks must be on standby to load those who break the law.
"Police vans must be full. If there is no space, continue arresting them. They must sleep standing. Ensure the law takes its course and the law doesn't retreat. We will see later if they eat, drink or bathe."
Cele added that some citizens had been threatened.
"Many South Africans are on your side. Many don't want this nonsense. This nonsense mustn't happen. You are there to ensure this nonsense doesn't happen. Don't disappoint South Africans," he said.
National police commissioner, General Fannie Masemola said: "We shall maintain public order, protect inhabitants of the republic and their property."
"We shall uphold and enforce the law. We are going out there. South Africa has only law enforcement in the country to protect them. Exercise maximum constraints.
"Where inhabitants go out of line, bring them back. You are trained on how to bring them back. Use minimum force to bring them back," he said.
He called on the police to also protect those who would be protesting or marching, and those who wouldn't be participating.
"Act calm at all times. Be firm. Do your work without fear," he said.
Using Afrikaans, Gauteng commissioner, Lieutenant General Elias Mawela told officers: "Geen staan en kyk (no standing and watching) in Gauteng.
"Anyone who dares commit crime, geen staan en kyk. Anyone who dares intimidate people, geen staan en kyk. We will not stand and watch people break down the country. That is how the mission was read to us. We know what to do.
"Team Gauteng, geen staan en kyk. Let us go out there and do what we are directed to do."