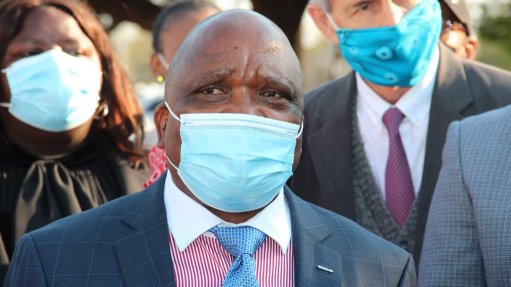 Minister of Health Dr Joe Phaahla
Minister of Health Dr Joe Phaahla stressed on Friday that the vaccination certificate touted by government is not being introduced to punish South Africans but rather to protect each other against the Covid-19 virus.
Following President Cyril Ramaphosa's address last Sunday many South Africans have voiced their dissatisfaction on the introduction of the vaccination certificate, or 'passport' as it is also called.
Addressing the media during his visit in the Free State to monitor vaccination sites, the Minister announced that there was a team working to make sure that the department rolls out the vaccination certificate through a proper implementation plan.
The Department of Health will work with the Department of Home Affairs and the Department of Sports and Recreation to roll out the certificates.
He assured South Africans that the introduction of the certificate would not deny South Africans access to essential services such as pension grants, as had been wrongly reported on social media.
However, the Minister said the introduction of the certificate would help in opening the economy, and allow for public gatherings in large numbers such as soccer games, as witnessed in other countries such as England.
The certificate will be digital to make access to the services easy.
He clarified that independent institutions such as universities and companies like Discovery would have their own governance structure on the implementation of the certificate.
Discovery announced that it requires all employees to be vaccinated against Covid-19.
Phaahla said it is up to individuals to make a decision on whether they allowed people who were not vaccinated to come to their homes or attend their functions.
The Minister stressed that fighting Covid-19 was a marathon for the health sector.
"While it has been a long battle, the department is making progress in containing the virus. All the efforts are done to reduce the death rate and to reduce the number of patients that end up in the intensive care units," he stressed.
South Africa's Covid-19 infections increased by 4 215, bringing the total number of confirmed cases to 2 873 415 on Thursday.
As of yesterday, there has been a 35% reduction in new cases compared with the previous 7 days.
Hospitalisation is down by 12.5% while the average positivity rate of tests is now at 9.3% and was 9% yesterday.
Active cases are down by 2.5%. To date, 15 683 797 vaccines have been administered.
Phaahla said the country was slowly getting closer to the World Health Organisation standard, which was 5%.
He said if the country continued to comply with lockdown restrictions and safety measures, a relaxation of the lockdown rules would be implemented in two weeks' time, adding that alcohol sales could even be extended to Saturdays.
The Western Cape, Eastern Cape and KwaZulu-Natal still reflect the highest infection numbers but are also declining.
Free State province accounted for a 12% positivity rate, which Phaahla said was too high for such a small province.
"We are encouraged Honourable Premier by the steady decline of new infections in the Free State even though we believe we can do more to deal with the cluster outbreaks. Your province and your neighbour Northern Cape have struggled with this third wave," he said to Free State Premier Sisi Ntombela.
VACCINATION
He said while the department was satisfied that people were coming forward to get vaccinated, it could be better.
The country hopes to vaccinate 70% of the population by Christmas.
The Minister said there was no doubt that the country will have a fourth wave in the coming months and added that if many people were vaccinated this wave would not pose a serious threat to the country.
"We are happy with the wide range of influential people in society who have joined the vaccination campaign. We, again, want to repeat that vaccination has proven to seriously reduce the risk of serious illness, hospitalization, ICU and even death. Through vaccination we can reclaim our social and economic lives by January 2022. We can protect each other enough to again enjoy sports and recreation in our numbers. Our various sports fans - soccer, rugby, cricket, netball, etc - can start to again cheer their teams and heroes in numbers.
"We can enjoy our music festivals, Macufe can come back," he added.
He said many people were depressed because they could not take part in normal activities such as going to church or soccer games.
"We can claim our lives back if we vaccinate," he urged.