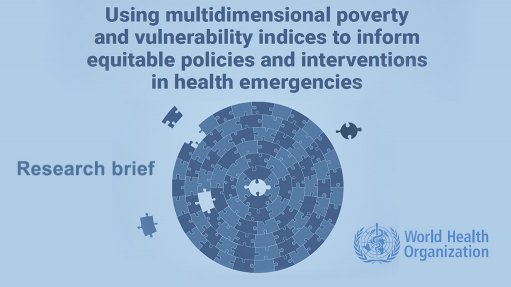 To prevent or mitigate the health equity impacts of health emergencies, or the health dimensions of humanitarian emergencies, analysts and decision-makers require an evidence-base to inform equitable planning, policy making, and interventions.
In addition to several existing emergencies rapid assessment tools, multidimensional poverty and vulnerability indices (MPIs or MVIs) have been used for measurement, analyses, and policy guidance in several countries around the world.
This research brief provides an overview of the use of MPIs and MVIs in health emergencies, with the goal of sharing insights and lessons learned.
This brief shares experiences from Afghanistan, Colombia, Honduras, Iraq, and select countries in southern Asia.
This research brief will also inform national health authorities when looking for ways to reinforce health equity into their measurement approaches in their policies before, during and after a health emergency.
Report by the World Health Organization