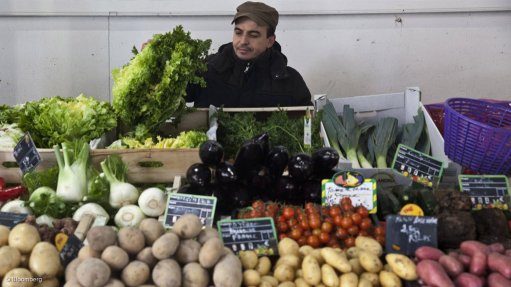 Photo by: Bloomberg
The US Agency for International Development (USAID) said on Thursday it was suspending food aid to Ethiopia because its donations were being diverted from people in need.
A spokesperson said in a statement that USAID had determined, in coordination with the Ethiopian government, that a "widespread and coordinated campaign is diverting food assistance from the people of Ethiopia".
The statement did not say who was behind the campaign or who the aid was being diverted to.
The United States is by far the largest humanitarian donor to Ethiopia, where more than 20-million people need food aid, most of them due to drought and a recently-concluded war in the northern Tigray region.
According to an internal briefing by a group of foreign donors to Ethiopia that was seen by Reuters, USAID believes the food has been diverted to Ethiopian military units.
"The scheme appears to be orchestrated by federal and regional government entities, with military units across the country benefitting from humanitarian assistance," said the document from the Humanitarian and Resilience Donor Group (HRDG), which includes USAID.
Spokespeople for the Ethiopian government and military did not immediately respond to requests for comment. USAID declined to comment on the report.
The USAID spokesperson said the agency intended to resume food assistance as soon as it was confident in the integrity of the system.
USAID and the UN World Food Programme (WFP) had already suspended food aid to the northern Ethiopian region of Tigray last month in response to information that large amounts of aid there were being diverted.
A two-year war in Tigray between the federal government and forces led by the region's dominant political party ended in a truce in November after killing tens of thousands of people and creating famine-like conditions for hundreds of thousands.
In the 2022 fiscal year, USAID disbursed nearly $1.5-billion in humanitarian assistance to Ethiopia, most of it food aid.
The HRDG briefing document, which was circulated among donors on Wednesday, recommended that Ethiopia's government allow donors to deliver aid through "alternative modalities" like cash transfers.
It also urged donors to call on Ethiopia's government to make a public statement condemning the diversion and demanding that aid workers not be harassed.
Ethiopia's food crisis has deepened in recent years as a result of the war in Tigray and the Horn of Africa's worst drought in decades.
WFP is also investigating "systemic" food diversion across Ethiopia, according to an email sent last week by the agency's deputy director to staff in Ethiopia.
A WFP spokesperson did not immediately respond to a request for comment.