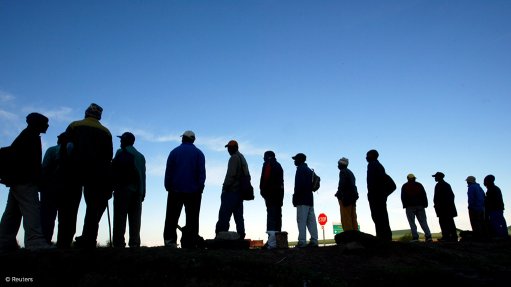 Photo by: Reuters
Ipsos highlighted on Tuesday that while it was uncertain whether unemployment and high levels of crime and violence will play significant roles in next year's election campaigning, South Africa's third largest worry, financial and political corruption, will.
According to Ipsos' 'What Worries the World' survey, 69% of South Africans cited unemployment as their top worry, as opposed to 41% of the rest of world who chose inflation.
Meanwhile, 58% of South Africans chose crime and violence as their second-biggest concern with financial and political corruption coming in third as chosen by 57% of those polled.
"We can clearly observe the current debates and controversies about the alleged corruption at electricity provider, Eskom, and at other state-owned enterprises. The big question – without a doubt – is if any of these issues will play a role in the outcome and/or the percentage poll (turnout) in the national election in 2024. In findings from the Socio-Political Trends Study, 54% of South Africans mentioned that they might refrain from voting as a result of the perpetual blackouts and problems with electricity supply where they live and work," said Ipsos.
It added that the growing unease about unemployment in South Africa served as a stark reminder of the challenges facing the country.
Among the 29 countries surveyed, only nine saw an increase in concern about unemployment from the previous year, while other nations showed signs of employment recovery after Covid-19.
Ipsos highlighted that even during periods of relative calm, concern about unemployment in South Africa had not dipped below 60%.
"By contrast, India, the country with the second-highest level of concern about unemployment, trails far behind South Africa at just 49%. On a global level, the issue of unemployment ranks as the fourth biggest concern (out of a list of 18), with a mere 27% selecting it as a worry," it noted.
It could be argued that the pervasive anxiety over unemployment in South Africa is well-founded, Ipsos said.
The country's unemployment rate surged to a record high of 34.4% in Quarter 4 of 2020, up from 23.3% a year earlier.
The latest data on South Africa's official unemployment rate show that 32.7% of South Africans – or 7.8-million people – are currently without work.
Ipsos explained that this meant that more than a third of the country's potential workforce was unable to secure employment, underscoring the severity of the issue.
Furthermore, the impact of unemployment was particularly pronounced for women, with 35.5% of women currently unemployed compared to 30.4% of men.
DISTRIBUTION OF JOBLESSNESS
Ipsos said the challenge of unemployment in South Africa was compounded by the uneven distribution of joblessness across the population.
The youth are disproportionately affected, with 61% of those aged between 15 and 24 unemployed during the last quarter of 2022.
Further, 33.6% – or 3.4-million out of 10.2-million – young people in this age group were not in employment, education, or training. This is not only a significant social and economic issue but also a potential source of political instability, highlighted Ipsos.
It went on to explain that the pervasive worry about unemployment in the country was not limited to concerns about the present, but also reflected a broader sense of unease about the country's future trajectory.