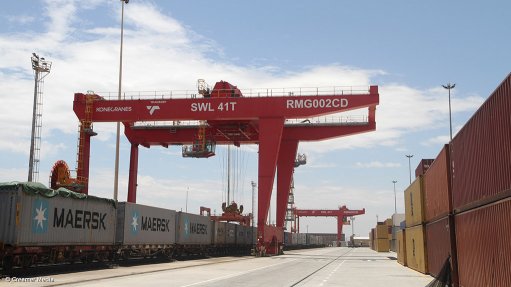 Photo by: Creamer Media
State-owned Transnet has applied to the Commission for Conciliation, Mediation and Arbitration (CCMA) to convene conciliation discussions regarding the group's current wage negotiations with labour unions.
This follows after the unions rejected Transnet's latest offer on October 3.
Newswire Reuters has reported that the United National Transport Union has served Transnet with a notice that union members will embark on strike action from October 6, while the South African Transport and Allied Workers Union has indicated it will join the strike from October 10.
Transnet's latest offer, for both bargaining unit and management employees, entails a 1.5% increase on guaranteed pay, effective from April 1, as well as a one-off ex-gratia payment of R10 000 before tax to be paid at the end of April 2023.
Further, owing to the company's cash position, the amount due from April 1 to September 30, 2022, will be paid to employees over three months at the end of January, February and March 2023.
Transnet's management has re-emphasised its commitment to save jobs and says the latest offer made, which will result in a R950-million increase on the current salary bill, does not result in any foreseeable job losses.
"Transnet has consistently made the point that its wage bill currently makes up over 66% of monthly operating costs. This is not sustainable, particularly given the current operational and financial performance. Transnet has urged unions, and Transnet workers, to accept its offer as the best possible deal that can be made right now," the group says.
Transnet remains optimistic of finding a solution so that it can continue the business of turning Transnet around for the benefit of the company and the South African economy, it states.