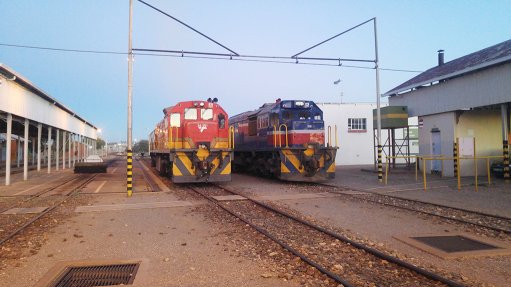 Transnet, the largest and most crucial part of the freight logistics chain that delivers goods to each South African, is heading for a repeat of the three-week-long strike it had in 2010.
If the United National Transport Union (UNTU) and the South African Transport and Allied Workers Union (SATAWU), the only two recognised trade unions in the Transnet Bargaining Council (TBC), embark on a protected strike it will be the first in the state-owned enterprise in eleven (11) years and a first for Portia Derby, Chief Executive of Transnet who was appointed fifteen (15) months ago.
Steve Harris, General Secretary of UNTU, says the members of the Union are angry and frustrated. They were the ones who worked tirelessly through the hard lockdown of the Covid-19 pandemic to ensure that South Africans still have access to goods and food while their managers were sitting at home.
"An offer of a 2% wage increases after having the Board of Transnet admitting that more than R210 billion was lost at Transnet due to the decade of state capture, is a slap in the face of each worker. Workers cannot bear the brunt because of the greed of a few individuals who have to date not been arrested and prosecuted," says Harris.
Since the appointment of Derby on 1 February 2020 and the new executives she appointed in the months afterwards at an additional cost of R65 million to Transnet's wage bill, the trust relationship between the employer and Organised Labour has completely broken down.
This was worsened after Transnet shared some of its future plans with Organised Labour in a strictly confidential briefing, only for it to be announced by Public Enterprises Minister Pravin Gordhan the very next day.
Transnet also announced that it will be entering into private strategic partnerships with service providers to take over the running of certain railway lines and to take over certain responsibilities in the ports without consulting with Organised Labour. The Unions heard about these plans in the media.
Derby announced that the Headoffice of Transnet National Ports Authority (TNPA) will relocate from Johannesburg to Ngqura without any discussions with Organised Labour about this. Harris says this is money which Transnet could have used towards annual wage increases that was due on 1 April 2021.
Transnet's latest offer is a 2% wage increase across the board, but the SOE refuses to increase medical aid subsidy or the housing allowance.
Transnet also insists on capping overtime on R211 596 per year (R17633 per month) in accordance with the Basic Conditions of Employment Act (BCEA), although this means that its workers are working overtime for less money than what they would normally earn per hour, says Harris.
Although Transnet insists that more than 2 900 employees of Transnet Engineering at a cost of R1,5 billion per annum is redundant, there has to date not been an explanation forthcoming from Government as to why the refurbishment of train coaches of the Passenger Rail Agency of South Africa (Prasa) and the building of the new coaches of Prasa's People's Trains are done by private consortiums instead of Transnet who used to do the work.
In die meantime Transnet pleads poverty, but still advertised vacancies for thirteen (13) managers without considering internally which individuals might be suitable to take up the promotion.
Harris says to UNTU the no retrenchment clause in the wage agreement is non-negotiable. It will make or break the 2021 wage negotiations as the preservation of jobs is always paramount for any trade union.
The Unions lowered their demand to a 7% annual wage increase across the board without prejudice, but to get the Employer to move by showing goodwill. Transnet however continued to keep their hands in their pockets, offering only 2% across the Board.
Transnet says it cannot afford to increase the medical aid subsidy or the housing allowance, while Organised Labour wants both to be increased to 2 300 per month.
Harris says Transnet also want to keep on abusing rail network workers by continuedly renewing their contracts for short terms. UNTU demands the insourcing of all contract workers.
UNTU will continue to keep its members abreast of any developments.
For more information phone Harris on 082 566 5516.
Issued on behalf of UNTU by Sonja Carstens, Media, Liaison and Communication Officer