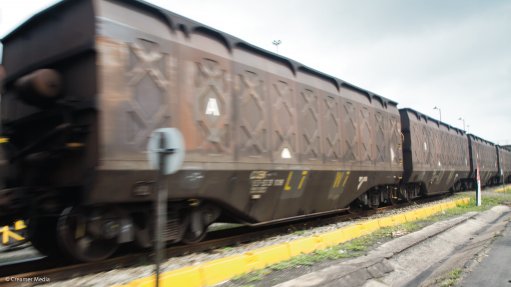 Business will join the National Logistics Crisis Committee to help tackle the collapse of rail services on certain corridors
Photo by: Creamer Media
CEOs from some of South Africa's largest companies – including Sasol's Fleetwood Grobler, Anglo American's Nolitha Fakude, former Exxaro CEO Mxolisi Mgojo, Toyota South Africa's Andrew Kirby, Remgro's Jannie Durand, Sibanye-Stillwater's Neal Froneman and Sanlam's Paul Hanratty – have agreed to lead workstreams set up to support government in tackling the country's prevailing crises in the energy and transport sectors, as well as debilitating levels of crime and corruption.
Following a meeting between organised business and government on June 6, an agreement was reached to form a partnership to tackle the three issues, which have emerged as major obstacles to growth, development and job creation.
The partnership with government and State-owned companies will be pursued under the banner of Business for South Africa (B4SA), which played a key role in supporting the country's vaccination roll-out during the height of the Covid pandemic.
In energy, collaboration has been under way for some time through the National Energy Crisis Committee (Necom), which was set up last year to tackle loadshedding through various supply, demand and security interventions announced as part of the Energy Action Plan.
However, business has also agreed to work through Necom to develop a "confidence building national communication plan" in support of the Energy Action Plan.
In transport, business will be integrated into the recently formed National Logistics Crisis Committee, or NLCC, which has been set up as a result of ongoing operational and security problems at Transnet, which have resulted in a collapse in rail volumes on certain key corridors.
There are also plans to mobilise the private sector to support the implementation of the National Rail Policy and to align and integrate business' efforts into government's Freight Logistics Roadmap.
Business has also agreed to provide "arms-length" support to combat crime and corruption, including by injecting expert resources to further capacitate the National Prosecuting Authority and the Investigating Directorate.
It has also been agreed that the Joint Initiative to Fight Crime and Corruption, or JICC, be used as the delivery mechanism to implement the interventions.
President Cyril Ramaphosa said the partnership with B4SA, which is Business Unity South Africa's (Busa's) implementation platform, was driven by a shared determination to overcome the severe challenges currently faced by South Africa.
Busa VP Adrian Gore added that the partnership agreement underscored organised business' belief in the country and its commitment to achieving sustainable and inclusive economic growth.
The three priority workstreams have reportedly been fully mobilised, and their priorities will be continuously reassessed and reprioritised, with potential to add new areas such as water and infrastructure.