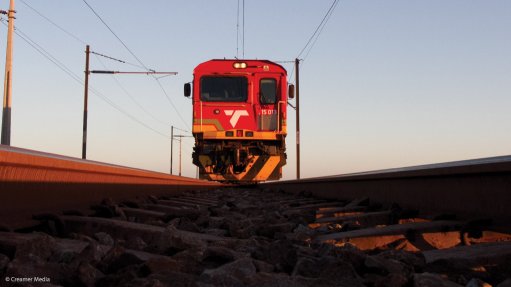 Photo by: Creamer Media
The rail line running from Africa's biggest container port to South Africa's richest province ran at 25% of its capacity over the past week because of theft, vandalism and rail damage.
The 688 km line from the Port of Durban to Gauteng province only operated for 36 hours over six days, Transnet, the State-owned entity that runs the line, said in a letter to its customers seen by Bloomberg. The company confirmed the document.
"For the past week, there have been a total of 39 security-related incidents targeting critical areas on the mainline resulting in the closure of the line," Transnet said in the letter, adding that heavy rain caused two further closures.
Criminals, often working in armed gangs, are targeting South Africa's State-owned infrastructure, ranging from freight-rail lines to electricity-generating plants. That's contributed to protracted power cuts and curbed shipments of crucial exports such as coal.
The container-rail line between Durban and Gauteng — a province that includes the biggest city of Johannesburg and the capital, Pretoria — is a key route for the country's imports. It also transports cars from automotive plants and other manufactured goods to the port.
Transnet has repaired some of the vandalized equipment and replaced some stolen gear. Eighteen people have been arrested and 15 separate recoveries of stolen equipment have been made, the company said.
As a result of the disruption, 58 trains are either stuck on the line or in staging yards, Transnet said.