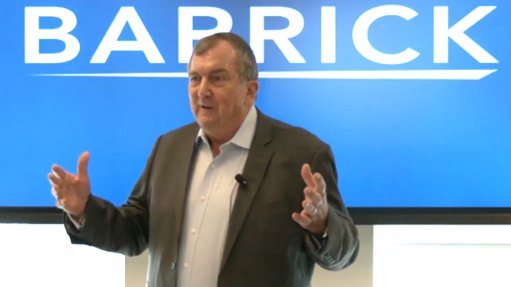 Barrick president and CEO Dr Mark Bristow.
JOHANNESBURG (miningweekly.com) – Some people say you can only grow through mergers and acquisitions (M&A) but what Barrick president and CEO Dr Mark Bristow very clearly affirms is that the way to create value is by adding ounces through the drill bit rather than opportunistic M&A – and he has been successfully demonstrating this to the mining industry for decades now.
The year 2023 is like 2011, Bristow said in response to questions following Barrick's presentation of dividend-yielding and cash-flow-increasing first-quarter results covered by Mining Weekly. (Also watch attached Creamer Media video.)
"The gold price is up, no one's invested, no one's got exploration teams, and so they have to buy and the people who make the money are the sellers. That does not fit our business model," said South African-born Bristow, who treaded a stunningly successful discovery and development path during his period as CEO of Randgold and is doing the same as CEO of Barrick.
The company's mineral reserves are constantly replenished by successful worldwide exploration programmes.
"With the proven ability to replace the reserves we are mining, we are not reliant on M&A to grow. Our new projects on the horizon should see us grow our production profile and this affords us the luxury of focusing on our organic initiatives while being able to choose external opportunities when they arise," said Bristow, whose messaging is all about sustainable profitability, growing value rather than just growing.
"A classic example is if you look at our series of transactions in 2019. They were very strategic, driven off the back of a two-and-half-year engagement, thorough due diligence. We came out in September 2018 with a clear set of deliverables, including people.
"When it comes to M&A, we have worked and have looked at everything that has been put in the market and we've also looked at many that haven't been put in the market, and we haven't very recently done any.
"But when you look at the Tanzanian deal, and the Nevada deal, that happened very quickly because they fitted all our filters easily, and that's the way we'll continue to do it," said Bristow.
"I believe we have passed an important milestone this quarter on our journey to become the world's most valued gold and copper miner.
"Mining is a long-term game and the foundation we have laid will ultimately be reflected in the full value of the company.
"We consistently invest in our future. Our existing mines support a ten-year-plus production profile which our organic growth projects will enhance.
"We're also a leader in sustainability and our actions in this field produce measurable results that benefit all our stakeholders.
Mining analyst: You made the comment that M&A should only be pursued if the target is stressed. What type of M&A makes sense to Barrick today?
Bristow: There are two reasons you buy assets or companies and that is if they are really good assets or it's a company that has those really good assets and is badly run, or inefficiently run. During these times of higher commodity prices and fewer options, any asset that's half decent gets a big multiple on it, so then you start making a decision not against the asset, but your view of the gold price, or the assumption that the gold price is going to continue going upwards, and everyone knows that doesn't happen.
If you look at Barrick in its early days and Randgold through its entire life, all the M&A we did, and we both did M&A, came with significant increases in reserves and material expansion through the drill bit. The classic one is Kibali, which had five-million ounces of gold. We've mined ten-million ounces and we've got ten-million ounces left. That's value creation. We bought Loulo with half-a-million ounces. We've mined around ten-million ounces and we've got ten-million-plus left, so 22-million ounces on the back of that first half-a-million ounces. Randgold discovered Morila and when Barrick bought Goldstrike, I think they bought three-million ounces and it's produced 33-million ounces. Those are the debates that you have if you are really looking to create value rather than gamble.
HUNT FOR FRESH OPPORTUNITIES STEPPED UP
While continuing to build up existing assets, Barrick is also casting its net wider in a stepped-up hunt for fresh opportunities.
During the past quarter, Barrick opened up new frontiers and secured prospects in Tanzania, Canada, the US, Peru, Dominican Republic and Saudi Arabia.
Ninety-six percent of Barrick's workforce and 78% of its management are host country or community hires. The age profile is also trending younger, with 54% of employees now under the age of 40 and 17% younger than 30.
Its sustainability approach allows it to tackle the challenges of alleviating poverty, managing changes to the climate, and preserving biodiversity holistically and concurrently.
In 2022, the New York- and Toronto-listed company generated $10.7-billion-plus in economic value and created 21 000 jobs, with $1.4-billion worth of goods and services procured from suppliers in the communities closest to its mines. In total, Barrick spent over $6-billion on host country suppliers in 2022.
It also invested $36-million-plus in community education facilities and business incubators. Many of its employees are now women and it has a target of 50% female representation for all new hires.