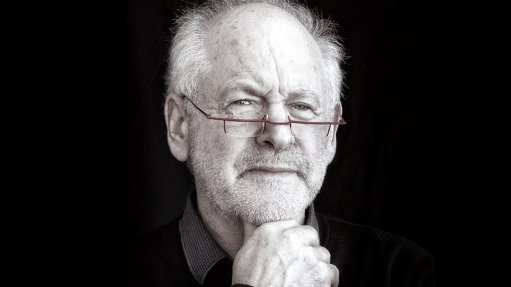 Raymond Suttner
Photo by: Chris Snelling
The violence in the ANC Eastern Cape elective conference shocked many people, even though violence (and murder) has become a common feature of the ANC in recent times. Yet the sheer brutality and hooliganism flies in the face of how most of us understand a political organisation in a democratic society. In this case, the main leadership contest was between two candidates both of whom were reported on ENCA to be supporters of Cyril Ramaphosa as the next ANC president, yet there was still violence.
The focus on ANC presidential contenders and how they are shaping up in the "race" reflects the pseudo- (North) Americanisation of ANC politics, where it is no longer an organisation that talks politics or where it does, that is no longer the core business of most of its members. It is unconcerned about issues or programmes or broad strategic directions, the questions that gripped the minds of the great heroes and heroines, as well as ordinary members in the past. Insofar as slogans like "radical economic transformation" and "white monopoly capital" have briefly figured in ANC discourse this has been as a proxy for support of one or other candidate rather than grappling with what such concepts may mean.
It was very different in 1990 when the ANC was unbanned and embarked on the complex task of rebuilding itself as a legal organisation, after 30 years of illegality. At the time of its banning, the organisation to be rebuilt comprised very different elements: from exile, some of whom had been in MK, some had been engaged in a variety of other areas of exile activity, underground, UDF and ordinary people who had always been members or supporters or had come to support the organisation. At that time, the SACP and its leaders enjoyed considerable prestige in black communities as did COSATU, which had –by agreement -succeeded the South African Congress of Trade Unions (SACTU) in what was then called the "revolutionary alliance".
There were high expectations amongst ANC supporters, even though the apartheid regime remained in power and engaged in various violent stratagems and dirty tricks to weaken the organisation. A negotiated settlement was seen by some as a rational way of resolving centuries of conflict and by others as potentially "selling out" the struggle, when many mistakenly believed that MK could defeat "the boers" on the battlefield.
Many of us had been engaging –on the instructions of the ANC and SACP- in insurrection, as part of making South Africa "ungovernable" and apartheid "unworkable". Simultaneously Nelson Mandela from inside prison and the ANC in exile had been engaging "the enemy" in secret talks with a view to settling the conflict peacefully. While secrecy was necessary to make the initial overtures, it aroused suspicion over what may have been agreed and fed into tensions that existed within the various components of the organisation. Even though the secrecy had been necessary, the transition from insurrection to talks was not adequately explained to the membership and support base.
Rebuilding an organisation that had been banned for so long and in the case of the SACP for even longer (40 years) was very complex. One could not simply pick up from the time of banning and resume as before. Not only were the conditions in South Africa very different but also the world was changing with the gradual collapse of key allies of the ANC-led alliance, in the Soviet Union and allied states. That affected the type of economic policies that could be pursued insofar as the "victors" of the Cold War were in most cases unsympathetic to transformational policies
At that time, some of the heroic figures were not simply names but were there to guide the organisation. Oliver Tambo had suffered a debilitating stroke so that his role was limited. But Walter Sisulu and Nelson Mandela and others who had served long terms of imprisonment or in exile were definitely around and the imprint of their leadership was very much a part of all the decisions that were made at the time. They may not have been conversant with all the details of what had happened in the years when they were inside prison but they communicated a way of conducting oneself as a member of the ANC-led alliance, based on their integrity and what they had learnt from experience and thinking about how to act politically over many decades, stretching back into the 1930s, in the case of Sisulu.
Both Sisulu and Mandela devoted a lot of their time to listening to the views of members, some of whom were very unhappy about the negotiations and its apparent outcomes. Having listened till the members had said all they wanted, they impressed upon young people the need to be flexible and to entertain possible compromises where this could prevent further bloodshed, especially since those being killed were mainly from the oppressed communities. Whether or not the members were convinced they sensed that they were led by people who took their views seriously, who would make time to hear their ideas and their grievances, who made them feel that it was meaningful to belong to the ANC.
There may have been flaws in their understandings and that of the organisation as a whole, but the ANC that was unbanned was a political organisation, which debated political questions and insofar as there were divisions these were over the direction the organisation should take, and its broad strategies and tactics.
The 1991 national conference, the first to be held on South African soil for over 30 years, was divided over whether or not to have a quota for women on the national executive, a forerunner of the ANC being one of the leading political organisations in the world in terms of women's representation. (Whether that is to be regarded as a primary way of tackling gender inequality is part of a wider question, of course). It was defeated then. The conference was also divided over whether or not to call off sanctions, when a speech by Thabo Mbeki well after midnight swung the delegates in favour of dropping these. The delegates had many long and hard debates over the place and goals of negotiations and other strategies and tactics that were or could be pursued.
As negotiations progressed there were many difficult decisions that had to be made, whether or not to make concessions, whether such compromises would set back or advance overall democratic objectives. At the time I was on the ANC National Working Committee, which used to meet at 6 am every morning to debate these issues and give a mandate to the ANC delegates. These were political meetings, arguing over what was best for the future of the country.
I continuously stress the political character of the ANC then, because that is absent now.

There must have been some who had ideas regarding positions that would be lucrative and for which they would strive, but in the broader scheme of things that was not the basis on which the organisation operated at that time. Only a few years into the transition someone did say to me that he wanted to head a parastatal. But the people, with whom I worked in developing the organisation and inducting members in its policies, had never thought of such things and they were not part of the discussions in which we were engaged in the NEC, NWC and in meetings in various part of the country. That does not mean that some of its leading members did not have the "foresight" to think of locating themselves in a way that would make them eligible for this or that lucrative position –but that was not discussed.
From early on, after the organisation's unbanning there were many scholars and other "experts" on democratic transition who visited the ANC to offer advice. Many of these advocated that the ANC transform itself or "normalise" itself into a conventional political party. In resisting this, those of us who worked in the ANC's political education section were worried about the ANC being transformed into an electoral machine where branches did little more than prepare for elections. We believed that branches needed to be vibrant organisational sites where people debated the issues of the day and engaged with local communities. They needed to have a continual political existence.
That "normalisation"/modernisation of the ANC, sought by the "advisers" has in fact come to pass and there has been an attempt to adopt the approaches to party building found predominantly in Western Europe and the US. It is true that many social democratic parties had once been popularly based and orientated but most had gradually transformed themselves into electoral parties. The current reverse trend in British Labour is part of a broader tendency that may or may not be sustained.
Because many people had no independent wealth this "normalisation" of ANC politics has coexisted with the prominent role of patronage networks that have come to be more important than formal structures of the organisation. These have steered jobs towards friends, and as with post-Soviet states, patronage has often converged with corruption and the state has been pillaged in order to provide capital to businesses of people connected with the president.
This would be how to understand the increasing bloodshed accompanying ANC elections but extending into assassination of councillors and others who hold jobs or access or control the award of contracts. Income and wealth inequality has widened since 1990 and there are close to 40% actually unemployed at this moment, with the highest proportion being amongst the youth.
The early post apartheid governments had to operate under difficult conditions where many investors were reluctant to put their funds into a state whose party could take directions that were unpredictable. Controversial macroeconomic policies were pursued in order to stabilise the situation. Even if the specific polices were wrong, it must be accepted, I believe, that it was necessary to take stabilising measures. Whether these were the best ones is a separate question.
But the problems of the Jacob Zuma era cannot be put at the door of GEAR, tariff reductions and other conservative macroeconomic policies, though these need to be revisited. What has been happening over the last 8 years has been systematic pillaging of national wealth, depleting resources in deals that relate not simply to individual acts of corruption but systematic undermining of the functioning of state departments and State Owned Enterprises in order to divert resources into hands of people closely allied to the president. Whatever our different views on transformational policies may be, this becomes abstract or barren if the thieves are allowed to clean out the national resources.
At lower levels similar processes operate although the scale of wealth entailed is generally significantly less. But even those who do not aspire to hand out contracts often aim to be a councillor, as a way of surviving in a period of extreme poverty. Consequently there is a lot at stake, affecting economic survival, in these elections.
That the ANC is in crisis is obvious. What seems more and more certain is that the organisation is unlikely to achieve a majority of the vote in 2019. In the light of the DA's current slippage as a coalition leader this may inaugurate a period of instability. If the ANC becomes the strongest party, electorally, it is possible that it could form a coalition government or form some relationships to enjoy qualified support and continue to "govern" with possibly more circumscribed opportunities for pillage.
But that merely prolongs its existence as a shadow of its former self, as a party that no longer represents meaningful values or an emancipatory path. We are seeing the disintegration of the oldest liberation movement on the continent. But even if it continues to exist it, it does not appear likely to develop a meaningful vision that will inspire people. It seems less likely that it will rise again and capture the imaginations of the many, many South Africans, whose trust it has squandered.
Raymond Suttner is a scholar and political analyst. He is a Part-time Professor attached to Rhodes University and an Emeritus Professor at UNISA. He served lengthy periods in prison and house arrest for underground and public anti-apartheid activities. Suttner was head of Political Education in the ANC from 1990 till 1994. His prison memoir Inside Apartheid's prison has recently been reissued with a new introduction covering his more recent "life outside the ANC" by Jacana Media. The book will be launched at Ikes Books and Collectables in Durban on Wednesday 4 October 5.30 for 6pm with Professor Monique Marks as discussant. He blogs at raymondsuttner.com and his twitter handle is @raymondsuttner