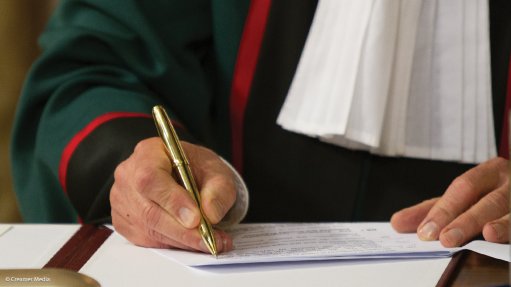 Photo by: Creamer Media
Campaign for Free Expression executive director Professor Anton Harber highlighted on Thursday that the organisation is concerned about the impact on free speech by limited treatment on hate speech.
Harber was speaking during the Free Speech Union of South Africa webinar on the Criminalisation of Hate Speech, where he said his organisation supported measures to prevent and stop hate speech in the country.
"But here I am talking about real hate speech, not speech that is offensive, or critical, irritating, pushes the boundaries but speech that really threatens imminent harm to groups in particular," he said.
On March 14, the National Assembly passed the Prevention and Combating of Hate Crimes and Hate Speech Bill. According to its preamble, this Bill was introduced to create criminal offences for hate crimes and hate speech.
The Bill was first introduced to the National Assembly in 2018 but lapsed in 2019 before being revived the same year. The Bill had been put on hold pending two Constitutional Court judgments.
He noted that his organisation did not have a problem with the first part of the Hate Speech Bill, which dealt with hate crimes that added extra penalties for crimes motivated by hate, however, it was concerned about the impact on free speech.
He said although there were still problems with the Bill, some of the worst features were taken out.
"We have in our laws plenty of ways of dealing with hate speech and we have shown that they can be used to convict the worst culprits of unrehabilitated hate criminals. I believe the concern is with those who have not got caught up in what laws existed before," he pointed out.
Johannesburg Bar Advocate Mark Oppenheimer argued that the Bill itself did not define hatred, saying it had a definition of harm that is also incredibly broad, and included a definition of social harm.
He added that the Bill did not focus largely on the content of the speech but rather on who the speaker was and who the victims were.
Oppenheimer said traditionally the distinction between hate speech and criminal injuria is that hate speech targets groups, not individuals.
Meanwhile, Harber explained that the organisation was against imprisonment as an appropriate punishment for hate speech. He said while he accepted legal action against extreme forms and dangerous forms of hate speech narrowly defined, introducing the threat of an eight-year imprisonment would have chilling effect on many journalists and all kinds of work.
"But it is also important to say the international norm has been accepted very widely, that the imprisonment in the case of hate speech should only be considered in the most serious cases of irredeemable dangerous purveyors of hate," he said.
Harber highlighted that the new law introduced an eight-year penalty which worried him.
"I think we have seen around the world that [imprisonment is] a way of dealing with those who for example promote Nazism or the Holocaust," he cautioned.