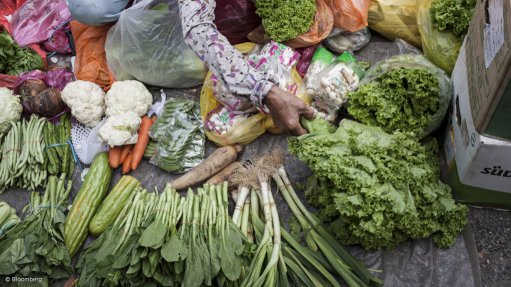 Photo by: Bloomberg

The richer and more developed countries become, the less likely they are to be food insecure. Governments in rapidly growing economies have more resources to dedicate to improving food security and nutrition. But this does not necessarily translate into food for all. For example, just over a quarter of South Africa's population is food insecure – despite sufficient food being produced at the national level.
Food security refers to the availability of food that is nutritious and safe and a guaranteed ability to get food of good quality. But this means doing so without resorting to emergency food relief, scavenging, stealing or recourse to similar coping strategies. Food insecurity, on the other hand, exists when food is not easily accessible and households have difficulty securing adequate amounts.
Food insecurity leads to hunger and malnutrition. Hunger is defined as not having enough to eat to meet energy needs. Hunger can lead to malnutrition, but absence of hunger does not imply absence of malnutrition.
Malnutrition happens when a person's diet does not provide adequate nutrients for growth and maintenance or when a person is not able to adequately utilise the food consumed due to illness. It encompasses undernutrition – being too thin, too short and having deficiencies from a lack of nutrients – and overnutrition, which includes being overweight and obese.
The highest food and nutrition insecurity in southern Africa was reported during 2008 and 2009 when the region experienced its most acute drought with more than 22 million people classified as food insecure. Although the absolute number of food insecure population is decreasing, the proportion of chronically food insecure population remains high.
Africa's success in achieving long-term food and nutrition security will depend on several key national and regional drivers. These include committed political leadership and good governance, quality policies and strategies in the food and agricultural sector, a sound macro-economic environment, inclusive economic growth and increased economic integration.
The need for an integrated approach
According to the Food and Agriculture Organisation, the prevalence of undernourishment in sub-Saharan Africa declined from 33% to 23% between 1990/92 and 2014. But in fact the total number of undernourished people increased during this period – from 175.7 million to 220 million. This was partly due to an expanding population.
Economic growth and wealth is necessary to make progress in reducing poverty and hunger, especially in the face of an expanding population.
But governments need to do more than pursue economic growth. The key factor in ensuring food security is inclusive growth – growth that promotes access for everyone to food, assets and resources.
Governments need to adopt an integrated approach to effectively reduce hunger, food insecurity and malnutrition in sub-Saharan Africa. They also need to implement a mix of complementary and comprehensive food security and nutrition policies and programmes.
Initiatives like the annual Africa Day of Food and Nutrition Security emphasise the challenges the continent faces. But it also focuses attention on what is being done to reduce hunger and poverty on the continent. According to the New Partnership for Africa's Development, major commitments have recently been made at regional level. These include: Africa's Renewed Partnership to End Hunger by 2025 and the Zero Hunger Initiative for West Africa.
In South Africa, a national policy on food security and nutrition seeks to provide an overarching guiding framework for the different strategies and programmes of government and civil society.
Some successes
These and other efforts are already bearing fruit. The proportion of undernourished people in developing regions has fallen by almost half since 1990.
West African countries have made significant progress by reducing the proportion of hungry people by 60% in 2015 between 1990-92 and 2015. In doing so, they have achieved the Millennium Development Goal of halving the proportion of people suffering from hunger.
East and southern African countries have also made some progress towards the the goals, but countries in Central Africa are lagging behind.
A total of 18 countries out of 40 considered in the Food and Agriculture Organisation's overview of food security in sub-Saharan Africa have reached the hunger target. Another four are close. They are expected to achieve the target before 2020 if current trends persist.
Of the 40 countries in sub-Saharan Africa considered in the report:
seven achieved both the Millennium Development Goals and World Food Summit targets;

11 reached the Millennium Development Goal target and made progress on meeting the summit targets; and

12 countries made some progress in achieving both.
South Africa has made progress on at least six of the eight Millennium Development Goals. It has made progress on at least six of the eight goals according to the 2013 status report and was on target to reach 60-80% implementation on both targets.
Next steps
The United Nations released the Sustainable Development Goals for implementation from 2016. Its targets are to be achieved by 2030. The second goal is to end hunger, achieve food security and improved nutrition and promote sustainable agriculture completely. This is more focused than the Millennium Development Goals which looked to reduce the number to 50%.
Strategies to meet this goal emphasise investment and interventions in agriculture to ensure sustainable food resources.
Given the current drought in South Africa – and the accelerating consequences of climate change on the environment – reaching this goal may be difficult. The consequence will be ongoing food insecurity, including poor nutrition and the poor health status that results from a lack of food resources.
Written by Xikombiso Mbhenyane, Professor and Head of Division Human Nutrition at the Faculty of Medicine and Health Sciences, Stellenbosch University and Irene Labuschagne, Principle dietitian at the Nutrition Information Centre, Stellenbosch University
This article was originally published on The Conversation. Read the original article.