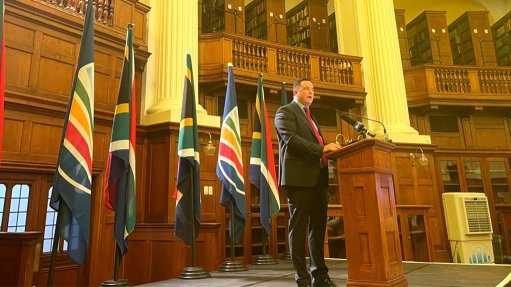 DA leader John Steenhuisen delivering his own version of the State of the Nation
Photo by: Supplied
Democratic Alliance (DA) leader John Steenhuisen said on Tuesday that President Cyril Ramaphosa's administration has dragged the country "down this path of failure over the past five wasted years".
Delivering his own version of the State of the Nation ahead of Ramaphosa's address on Thursday, Steenhuisen said the true state of the nation amounted to one in which people had a binary choice to make that would irrevocably shape South Africa for future generations.
He accused Ramaphosa of adding to what has been termed the 'nine wasted years' during which former president Jacob Zuma presided.
He called on South Africans to use their democratic right in the 2024 general election to give the DA a chance to make South Africa better.
The party believes that the Eskom energy crisis, which has burdened the country with sustained power cuts, is a result of African National Congress (ANC) failures.
"Nothing that President Ramaphosa says on Thursday will change this reality. In fact, Ramaphosa is the one who has taken us down this path of failure over the last five wasted years, during which time this country has rapidly gone backwards on every conceivable metric," Steenhuisen said.
He believes that the DA is the only credible way out of the current economic and social situation that South Africa finds itself in.
"If you count yourself amongst the groups who want this country to succeed, who want to embark on the fundamentally better path, use your voice, raise your voice in the service of change because that is ultimately what democracy demands in each of us. It offers us the possibility of peacefully changing direction. It gives a way out when we recognise that the road that we are currently on leads to a dangerous dead end," he stressed.
Steenhuisen outlined the DA's energy success in the Western Cape and pointed out that residents were already protected from up to two stages of loadshedding.
He shared that Cape Town was set to start buying extra electricity from businesses and households while hundreds of megawatts in private projects were on the way to end loadshedding in Cape Town.
Steenhuisen said where the DA governs outright, potholes are repaired, sewerage is collected, and infrastructure is maintained.
He said as the failures of national government accelerated, DA local governments were increasingly taking over services such as electricity generation, public transport and policing.
"As the collapse of ANC-run governments accelerates at the same time that the DA pushes the boundaries of innovation and good governance, the gap between these two paradigms is set to become a yawning chasm by 2024," he highlighted.
Steenhuisen warned South Africans that the ANC government would continue to regard private enterprise with hostility, to hold a monopoly over critical economic sectors, and to provide substandard education and healthcare services.
He noted that, therefore, loadshedding would continue, poverty and inequality would grow further, and accelerating capital flight would turn the South African economy into an isolated basket case.
"… in 2024 we must form a new government that is built around the same values and principles that have already put places like Cape Town onto a better path," Steenhuisen stated.