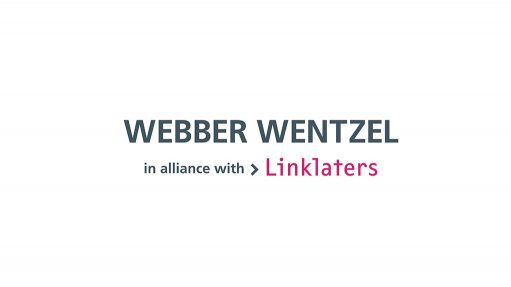 All industries, and all employees, need to be involved in measures to combat money laundering and terror financing to bring South Africa up to global standards
Taking measures to counter money laundering, terror financing and financing of weapons of mass destruction is not only the responsibility of the country's law enforcement agencies, or its financial institutions.
"It is the responsibility of everyone in South Africa, particularly the private sector, to understand their obligations, effectively implement them, and engage with the state to see how they can assist," said Webber Wentzel partner Kent Davis. He was speaking at a recent Webber Wentzel client event to unpack the implications of greylisting.
In October 2021, the Financial Action Task Force (FATF) identified various deficiencies in South Africa's financial regulatory system that, if not addressed, would result in the country being placed on the "grey list" of countries that are subject to increased monitoring by the FATF.
The economic impact for the country of being placed on the grey list would be negative, but not "Doomsday", said Webber Wentzel partner Kim Rew. It would primarily affect international transactions, entailing increased due diligence, higher costs, more complexity, possible limitations and even prohibitions on certain transactions.
"The effect would be staged, not immediate, and also depends on how South Africa's international counterparts respond to a greylisting," she said.
Speakers at the seminar pointed out that since the 2021 FATF report, South Africa has taken several steps to address some of the identified deficiencies, and it is by no means certain that it will move onto the grey list.
In April 2022, the Investigating Directorate (ID) was established as a temporary directorate within the National Prosecuting Authority to pursue those involved in state capture. Since then, it has enrolled nine seminal prosecutions. In October 2022, President Cyril Ramaphosa announced the ID would become a permanent entity, and the enabling legislation is expected to be enacted shortly.
As the authorities pursue those responsible for state capture with the help of whistleblowers, it has emerged that while there is sufficient legal protection for genuine whistleblowers, practical steps to safeguard them have been inadequate, and this needs greater attention.
Other positive steps South Africa has taken include submitting various reports to the FATF, prosecuting various money laundering offenders and applying for the extradition of offenders. Two outstanding issues are to prosecute instances of terrorism financing and to enact the necessary legislation to close the loopholes identified by the FATF.
National Treasury is moving quickly to put the necessary legislation in place. These measures are contained in the General Laws Amendment Bill, which still requires public consultation, and the Omnibus Bill, which will address weaknesses in four other pieces of legislation, including the Terrorism Act and beneficial ownership rules.
It is essential that South African organisations do not wait for greylisting to happen or for the relevant legislation to be enacted, but start taking action now, Davis said. They need to consider whether they are taking a risk-based approach, have internal compliance policies in place, and are not merely adopting a "tick box" attitude. All these measures take time. Internal policies have to be drafted and circulated for comment, staff need to be trained, and systems to report suspicious transactions to the authorities need to be in place and fully understood. Companies should be prepared for visits by the authorities to check their systems in place. If they fall short, penalties could range from administrative fines to criminal prosecution.
The responsibility for implementing these measures has to penetrate every area of an organisation, across all industries, from the board of directors to employees in the front office. In their everyday dealings with clients, employees should be alert to the risks of money laundering and the need to take effective "know your client" measures, beyond simply asking for an identity document. Everyone in an organisation needs to understand that money laundering is a serious risk to the sustainability of that business.
Written by Kent Davis, Partner, Kim Rew, Partner & Lerato Lemola-Oguntoye, Senior Associate from Webber Wentzel