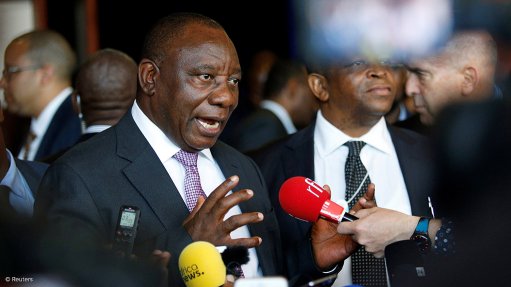 Deputy President Cyril Ramaphosa
Photo by: Reuters
It is in the interest of all South Africans that a judicial commission of inquiry be set up urgently to probe state capture so the guilty could be brought to book and the innocent could clear their names, Deputy President Cyril Ramaphosa said on Wednesday.
Replying to questions in the National Assembly, Ramaphosa said President Jacob Zuma was speaking to his lawyers about a proposal to set up an independent inquiry into alleged state capture.
"President Jacob Zuma has the power to establish such a commission in terms of Section 84 (f) of the Constitution of the Republic of South Africa and he has indicated that he's not opposed to the establishment of a commission of inquiry and as we speak now, he's in the process of consulting his legal advisors to find ways of giving effect to this proposal," said Ramaphosa.
"The allegations are clearly a matter of grave concern to many South Africans. State capture, it can be said in whatever form it takes, is abhorrent and is something we all as South Africans should not, and cannot, be tolerated."
Ramaphosa said all those implicated should be able to either clear their names, or explain their involvement in state capture before an inquiry.
"It is in the interest of all South Africans that the commission should be set up as quickly as possible so that all those who have evidence can present their evidence to a competent body and those allegedly implicated should also have an opportunity to respond to the allegations against them."