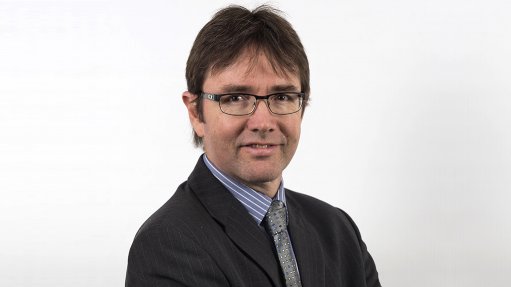 Minerals Council South Africa CEO Roger Baxter.
JOHANNESBURG (miningweekly.com) – South Africa's geological prospectivity is fantastic, Minerals Council South Africa CEO Roger Baxter told the Joburg Indaba on Wednesday.
This is so even though only 15% of South Africa's surface area has been mapped at a high-resolution 50 000-to-1 geophysical level, and even though this country's endowment has not yet benefitted from advanced new geological technology. (Also watch attached Creamer Media video.)
"The people that find the deposits these days are the mathematicians and statisticians who sit in little offices looking at the geological abnormalities using algorithms to do so, and then send the geologists to go and find the deposit," said Baxter.
That compares with 20 years ago when a hands-on geologist approach was typical.
Baxter displayed slides that highlighted South Africa's potential geological opportunities in chrome, platinum group metals, gold, iron-ore, titanium minerals and diamonds.
On mining in South Africa being a sunset or sunrise industry, he said: "We've got an incredibly world-class mining sector, business capability that is hard to deny at a global level, and a committed and patriotic business sector, which really matters for this country, and wants to see South Africa succeed.
"We've got significant research, development and innovation capacity, a pipeline of skills from world-class educational facilities and in some areas great infrastructure but we're just not getting our service levels on that infrastructure that we need," Baxter said.
Having recently returned from Australia, he noted that mining engineering was no longer offered at any of the universities in Queensland, compared with South Africa, which had a surplus of mining engineers coming out of universities. But these could not be employed because the country was failing to grow the mining sector at a sufficiently fast pace – "and we should be doing something about that".
Direct engagement is taking place with the Department of Mineral Resources and Energy (DMRE) on how South Africa can have a world-class cadastral system and exploration plan in place.
"We are making progress. It has been a little bit frustrating from the point of view of the pace of the progress, but it's not due to a lack of effort," Baxter said, adding in response to a question that he had had a discussion on the setting up of a cadastre with the Mineral Resources Minister's special adviser, the Deputy Minister and the Deputy director-general in charge of policy at the Africa Downunder conference in Perth.
"It's an interesting place to engage your government and there was agreement that we need to get the cadastre sorted out quickly. The Minerals Council's position remains very clear – buy a new off-the-shelf cadastral system. We've got two world-class cadastral system companies that operate in South Africa. You don't have to develop a brand new bespoke system that will take you three years to get operational.
"We're talking about an off-the-shelf system that will probably take six months to iron out a few of the edges and get working and you want a transparent cadastral system that gives you all the pre-compeitive geological information.
"You also want a licensing system linked to that cadastral system that works on much shorter timelines. Many mining companies tell me they applied two years ago for a prospecting right and are still waiting, or they find that the application is lost, or was given to someone else.
"When you've got full transparency, you can make a lot of progress. But at least the DMRE has admitted that Samrad is dysfunctional. Can we see an off-the-shelf system being procured? That's something we're really pushing for from our side," said Baxter
As reported by Mining Weekly last month, while South Africa does not have such a commercially available cadastre, fellow African countries that are already thriving on one include Cameroon, Côte d'Ivoire, the Democratic Republic of Congo, Ethiopia, Guinea, Kenya, Libya, Malawi, Mauritania, Mozambique and Zambia.
Worse still is that the Proudly South African supplier of the system to these countries has opted to walk away from the DMRE's tender invitation – because it is unable to understand the drivers of the terms of reference that South Africa's DMRE has set.
The company concerned, Trimble, will likely go live with Botswana's new cadastre system, by the end of October.
Council for Geoscience CEO Mosa Mabuza has urged all South Africans to rally around exploration as this country's 'Big Hairy Audacious Goal', owing to it being essential for the future of mining.