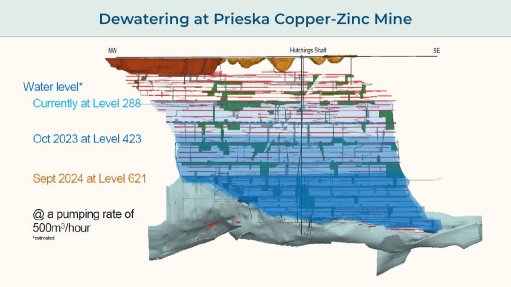 Dewatering plan at Prieska Copper-Zinc Mine.
JOHANNESBURG (miningweekly.com) – Emerging production hubs in the Northern Cape are opening the way for South Africa to be a producer of future-facing 'green' metals to support the global energy transformation and to help mitigate against climate change.
The two emerging production hubs are the Prieska Copper-Zinc Mine and the Okiep Copper Project.
Both are the outcome of the vision of the Sydney- and Johannesburg-listed Orion Minerals, which is now well on its way to achieving its goal of unlocking what it describes as incredible base metals potential in the Northern Cape.
Following the securing of a funding package to progress pre-development at Prieska Copper-Zinc and the completion of permitting and early stage funding for Okiep Copper, stakeholders are on standby for the imminent transition to mine development and production.
The funding arrangements include the introduction of South Africa's State-owned Industrial Development Corporation (IDC) as an Okiep development partner, in addition to being a Prieska funder.
The combined pre-development funding by Triple Flag of Canada and the IDC for Prieska now totals R350-million-plus, allowing for trial mining and underground dewatering to help bring about early works bankable feasibility study completion by mid-year.
"Orion is entering an exciting phase ," Orion CEO Errol Smart stated in the December quarterly release to Mining Weekly.
Base metals prices continued their upwards trajectory during the December 2022 quarter on the back of relatively bullish sentiment, although the movement was not uniformly upwards.
Bank of America commodity strategists believe copper could rally to $12 000/t in the second quarter of 2023, given the right set of circumstances.
Fitch Ratings, however, have kept their copper assumptions unchanged, reflecting "softer market sentiment linked to the global economic slowdown in 2023, offset by supportive short- and medium-term supply-demand drivers". The same also remains the case for zinc, noting "smelter and refining bottlenecks that kept the market tight in 2022 will continue in 2023, despite growing mine supply".
Concentrates surpluses will remain until 2024, when new Chinese smelting capacity comes on stream, alleviating refined metal scarcity.
MINE DEWATERING
At Prieska, preparations are on schedule to allow dewatering to begin during this quarter in a modular form that allows for scale-up should the need arise and sufficient funding become available.
At Okiep, the water use licence application process began in November with the public participation process to remain open until mid-February, after which submission to the Department of Water and Sanitation can proceed.