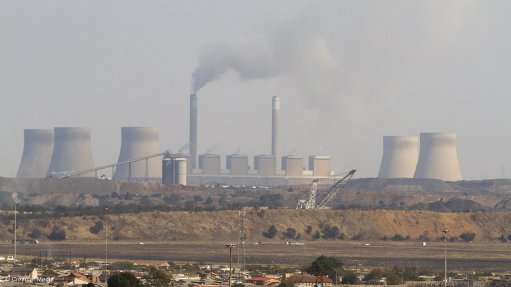 Kendal power station
Photo by: Creamer Media
South Africa is considering extending the lives of some of its biggest coal-fired power plants as the government seeks to bolster the country's long-term energy security amid a deepening crisis.
Kendal and Lethabo, two plants that represent about fifth of the State-owned power utility's current capacity, are possible candidates, according to people familiar with the matter. Officials tasked with ending the crisis and making sure it doesn't recur are looking at all options, the people said, asking not to be identified as the plans aren't yet public.
The ruling African National Congress is scrambling to deal with the fallout from intensifying power cuts a year before elections. However, extending the lives of the polluting coal-fired giants would be a financial challenge for embattled Eskom and raise questions about South Africa's commitment to curbing greenhouse gas emissions.
For the moment, the government and utility Eskom are planning to delay the decommissioning of units at smaller coal plants, due over the next year or two. The focus is on Hendrina, Grootvlei and Camden, the utility said.
"The consideration of continuation of operation at present focuses on those older stations, which happen to be the smaller units," Eskom said in a response to queries.
Those three plants have a combined capacity of 4.9 gigawatts — compared with 8 gigawatts for Kendal and Lethabo — and are already partially idled. Camden and Grootvlei were previously mothballed and then reopened.
The cost of running those operations longer will be assessed against the cost of running diesel-fired plants, which are usually used sparingly at times of high demand, or whether the costs outweigh the hit to the economy from sustained outages.
More ambitious extensions would be a financial challenge, with Eskom prohibited from new borrowing as a condition of its R254-billion bailout. With commercial banks reluctant to finance coal projects given climate considerations, modifications to extend plant lives would need to be funded from cash flow.
The plants would also need costly pollution abatement requirements, unless they were granted exemptions. That would raise concerns about long-term climate goals in South Africa, the world's 14th-largest source of greenhouse gases.
Spokespeople for Kgosientsho Ramakgopa, the electricity minister, didn't respond to queries. Neither did the Department of Forestry, Fisheries and the Environment.
German Consortium
Eskom is hopeful that expansion of private sector generation capacity and a strengthening of the national grid will make larger projects unnecessary. Kendal and Lethabo are due to be decommissioned after 2035.
As an initial step in determining the future of South Africa's coal-fired plants, the government will assess the findings of a group of German consultants. The group, led by vgbe energy, has assessed Eskom's 14 operating coal plants and is completing its report, according to vgbe, a technical association of energy-plant operators from 34 countries.