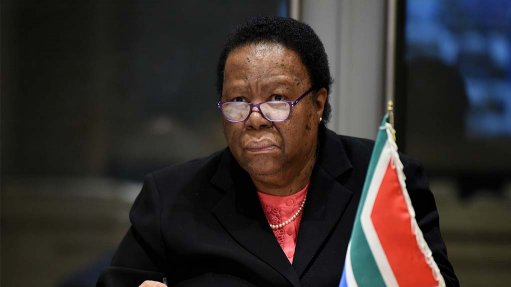 International Relations and Cooperation Minister Naledi Pandor
The Brics group of nations will discuss the feasibility of introducing a common currency and shouldn't rush any decision, according to South Africa's foreign minister.
US interest-rate hikes and geopolitical conflicts have pushed up the value of the American currency and all the commodities priced in it, to the detriment of most emerging markets. That's spurred calls for alternatives to using the greenback as the global trading currency and one option that's been flighted is for the Brics bloc — which comprises Brazil, Russia, India, China and South Africa — to adopt their own unit. The issue is likely be on the agenda of an Aug. 22 summit of its leaders in Johannesburg.
"I don't like preempting Brics leaders' discussions," South African Minister of International Relations and Cooperation Naledi Pandor said in an interview in Cape Town on Tuesday. "It's a matter we must discuss and discuss properly. I don't think we should always assume the idea will work because economics is very difficult and you have to have regard to all countries, especially in a situation of low growth when you are emerging from crises."
Brics represents more than 40% of the world's population and almost a third of global economic output, making it one of the world's most important economic blocs. Several other nations, including Saudi Arabia and Iran, have expressed interest in joining its ranks.
Brics nations and other countries "are saying why can't we trade in our own currencies? Why are we committed to trading through the dollar?" Pandor said. "South Africa has an internationally traded currency. However, we hold a lot of debt in dollars so you know we have to approach this discussion responsibly."
The dollar is likely to remain the dominant currency for a long time, according to Johannesburg-based money managers Vestact.
"No other currency has the recognizability, stability and economic might behind it," it said in a note to clients. "The only currency that is vaguely close to being able to replace the dollar is the euro."