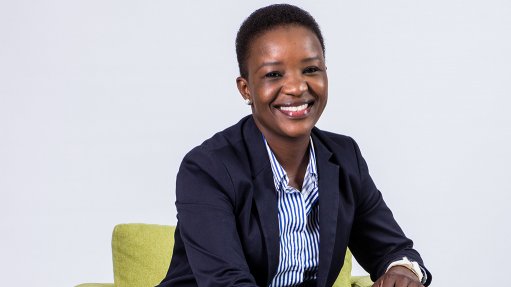 BLSA CEO Busi Mavuso
South Africa should ensure the World Economic Forum (WEF) Annual Meeting conversation in Davos, Switzerland, this week reinforces the country's just energy transition plan, and that it achieves international solidarity across business and political spheres to ensure they are part of the project of decarbonising the country's economy, while ensuring energy security and supporting development, said business lobby Business Leadership South Africa (BLSA) CEO Busi Mavuso.
South Africa advanced plans for a Just Energy Transition Partnership with several developed countries to provide $8.5-billion to support the country's energy transition at the twenty-seventh United Nations Conference of the Parties in Sharm El-Sheikh, Egypt, in November last year.
South Africa continues to face serious law and order challenges, including an explosion of organised crime and extortion, but the country must make clear to the world that the project of rebuilding institutions is working, Mavuso noted in a January 16 newsletter.
"We must also never forget that it was the strength of our institutions, particularly the judiciary, media and independent central bank, that helped end State capture," she said.
It will be important to reinforce at Davos that South Africa is a safe place for investment. Delegates will be conscious of the high risk of South Africa being greylisted by the Financial Action Task Force next month, implying there are insufficient controls against money laundering and terrorist financing.
However, there has been considerable progress since the end of State capture in rebuilding the criminal justice system. More than two dozen prosecutions are under way against senior political figures and former State-owned enterprises managers.
Further, in December, the National Prosecuting Authority won the right to extradite a former senior Eskom executive in the UK to face charges. The Guptas are facing extradition from the United Arab Emirates, while their seized assets are being disposed of in South Africa, she added.
Additionally, the economy has shown some surprising resilience. It now seems gross domestic product growth last year will beat forecasts, growing well over 2%. While economic reforms are urgently needed, the potential is clear and the country's mineral resources will be in high demand for the global transition to electric vehicles.
"Our business process outsourcing sector has been growing dramatically, with several global companies establishing large operations here. Our financial sector is world-class, offering the skills and infrastructure to manage global capital flows. These are just some of the growth opportunities, if we can unlock the policy blockages," Mavuso highlighted.
South Africa can work together to solve its problems. BLSA is committed to engaging with social partners, particularly government, to find ways to mobilise resources to drive growth.
"We have had may successes from working together. We will be redoubling our efforts this year. I have no doubt in the good faith of many government counterparts and through programmes like Operation Vulindlela, many breakthroughs are being achieved. We have a full programme of action for the year ahead to confront our most pressing challenges, led by energy security," she noted.
Meanwhile, ruling political party the African National Congress has a chance to demonstrate its commitment to accountability by appointing competent and qualified people to key posts, as highlighted in the January 8 statement commemorating the party's 111th anniversary, as it ushers in new leaders in various State departments.
"South Africa needs dynamic and effective leadership in the two priority areas that influence all other facets of the economy, namely energy and transport. These sectors are currently plagued by crime and corruption that is so deeply entrenched that loadshedding is now part of everyday life, and [State-owned logistics agency] Transnet remains financially and operationally distressed.
"The ruling party has said that it is determined to put the interests of its citizens first, but, given government's track record, it is difficult to be optimistic. Next year 9when citizens go to the polls], citizens will decide if it has done so," she highlighted.
"In the global context, South Africa offers a great deal of potential. We are keen to partner with the global community to realise that potential. We must present a united vision, one that acknowledges our challenges, but also notes our successes. Ultimately, people of goodwill everywhere share the common objective of building a thriving South Africa," Mavuso averred.