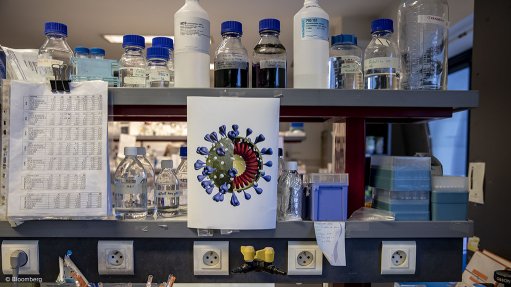 Photo by: Bloomberg
South Africa is yet to make an estimated R500-million payment to an international initiative designed to secure equitable access to Covid-19 vaccines for middle- and low-income countries.
Head of health regulation and compliance as well as former acting director-general for the Department of Health Dr Anban Pillay confirmed on Wednesday the payment was yet to be made as the department was awaiting a range of approvals from National Treasury.
This despite statements by Finance Minister Tito Mboweni, during a Bloomberg Invest Africa webinar on 24 November, that "the R500-million is in the pocket, is in the consortium".
News24 has established South Africa missed the deadline of the first payment window and the Solidarity Fund was now expected to step in and make a payment to the Covax initiative of an estimated R300-million, or 15% of the total envisaged spend.
The Covax facility financing rules require a government guarantee for the remaining 85%.
Mboweni stated he would have to find a further R4.5-billion.
This would be in exchange for enough doses of whichever vaccine became available for 10% of the country's 56-million population. It is understood this first tranche of vaccine doses would be made available to healthcare workers and other frontline workers.
So far countries such as Namibia, Botswana, Libya and Mauritius have confirmed their participation in Covax, joining dozens of EU countries and the UK.
Documents seen and interviews conducted by News24 with several key officials and industry insiders on Wednesday revealed the failure to make the payment rested on several key factors:
Public Finance Management Act (PFMA) regulations and Treasury rules do not allow for payments of the nature required by the Covax Facility to be made.
There was some disagreement between officials over the price tag of the vaccines per dose, with some arguing that $10 (R140) per dose was too expensive.
The various vaccine candidates had not yet been registered with South African regulators; a problem further compounded by the fact that Covax participants will not be able to choose which vaccine it gets.
No provision was made in the budget for this sort of payment, and the approvals were not yet in place when the Covax deadline lapsed.
Covax "was aware of the reasons why payment had not been made yet" and was still in discussion with South African officials.
News24 contacted Health Minister Zweli Mkhize's spokesperson, Lwazi Manzi, and health department spokesman Popo Maja but received no response. Calls to a Treasury spokesperson also went unanswered.
Last week, Manzi asked News24 to await a press briefing by the government when asked detailed questions about the country's plan to secure vaccine doses. This briefing is yet to be scheduled.
According to the Global Vaccine Alliance (Gavi) website, which manages the Covax Facility with the World Health Organisation (WHO) and Coalition for Epidemic Preparedness Innovations, South Africa's participation in Covax was still limited to the country having signed a non-binding letter of intent, as of 24 November.
"For lower-income funded nations, who would otherwise be unable to afford these vaccines, as well as a number of higher-income self-financing countries that have no bilateral deals with manufacturers, Covax is quite literally a lifeline and the only viable way in which their citizens will get access to Covid-19 vaccines," an explanatory note on Gavi's website reads.
Its stated mission is to ensure equitable distribution of a vaccine. A statement on the WHO website in August said 172 economies were in discussions to be part of the Covax initiative,
The WHO said self-financing countries, the category into which South Africa falls, needed to sign the intention to participate by 31 August and turn this into a binding commitment by 18 September with the upfront down payments to be made before 9 October.
"We could not make payment until the National Treasury gives the department approval to do so," Pillay told News24.
"Our procurement laws are quite strict hence the health department can only make payment after Treasury approves. There are several different approvals that are required given the Covax agreement requirements. Covax is aware of the reasons why we have not paid as yet," he added.
SOLIDARITY FUND
Treasury director-general Dondo Mogojane told News24 on Wednesday the Covax process was being driven by the health department, and suggested the director-general for health, Dr Sandile Buthelezi, be contacted as "they were leading that intervention".
"Who said we missed the deadline?" Mogajane asked.
"The Solidarity Fund is not about missing the deadline," he said of the fund putting up the initial down payment.
"We had just passed the budget and obviously the framework did not include this thing. As a result, we were asking ourselves, is this the right thing that we are doing? And we all agreed that it is the right thing. "
Mboweni announced during his Medium-Term Budget Policy Statement on 28 October that ailing national airline South African Airways would receive R10.5-billion recapitalisation, which he insisted was not another bailout.
"These guys came to the party and said okay guys, we will make R500-million or whatever it needs available now, which is welcomed, why not? Because you must remember that is not the full cost, but while government is sorting itself out in terms of its own internal processes," Mogojane said.
"So, it is not about missing the deadline. But I would rather you spoke with the director-general of health."
Mboweni told News24 he was not aware of any deadline being missed.
"As far as I know, all systems were prepped to go," he said.
Participation in the Covax initiative would not ensure access to enough doses to provide adequate population coverage, News24 previously reported.
Professor Barry Schoub, the chairperson of the Ministerial Advisory Committee, previously told News24 it had recommended the government should participate in the Covax Facility, but then also undertake bilateral negotiations with manufacturers.
As of Thursday, the status of any such discussions was unclear, despite repeated attempts to gain a better understanding from health officials.