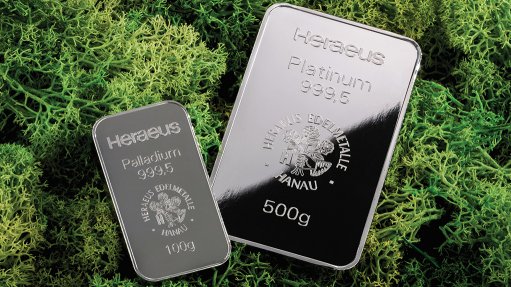 Platinum and palladium bar produced by Heraeus Precious Metals.
JOHANNESBURG (miningweekly.com) – Platinum group metal (PGM) products and services company Heraeus Precious Metals is investing €35-million in the expansion of its PGM recycling capacity at Hanau in Germany, with the buildout forming part of a €300-million global recycling programme.
Last year, additional recycling capacity development began in Wartburg, Tennessee, and Santa Fe Springs, California, and a plant to recover PGMs from spent automotive catalysts in Pinghu, China, together with the German chemicals company BASF. Also in China, a modern PGMs plant in Nanjing was opened by Heraeus in 2018.
Heraeus has a marketing and sales office in Boksburg as well as a PGM chemical compounds production and refinery facility in Gqeberha. The company is closely linked to Johannesburg-listed PGMs-mining company Northam Platinum and is involved in iridium thrifting research with Johannesburg- and New York-listed Sibanye-Stillwater. BASF also has a well-established South African presence.
At Hanau, Heraeus will be building several additional production lines, which will significantly increase its recycling capacities by 2026. The new lines will use electrolytic processes that reduce the use of chemicals and increase process efficiency.
Recycled PGMs have an up to 98% lower carbon footprint than mined PGMs and Hanau's wet chemical process has the lowest carbon footprint of the recycling processes for PGMs, Heraeus states in a media release to Mining Weekly.
Demand is steadily increasing for recycled materials and circular solutions, driven by growing environmental awareness.
"We're convinced that demand will continue to increase in the coming years. Only together can primary material from mines and secondary material from recycling meet global demand," said Heraeus Precious Metals business line chemicals head Marius Vigener.
"Our plants are state-of-the-art. We recover precious metals from scrap materials almost completely and investment at the Hanau site enables us to meet the growing demand in Europe in particular," Heraeus Precious Metals business line chemicals technical head Christian Mock added.
Sustainability is of particular importance to Heraeus with the company aiming to be carbon neutral from 2025 and to abandon the use of fossil fuels completely from 2033 amid 63% of the worldwide electricity requirements already arising from renewable sources. The new recycling facilities in Hanau will also be powered by green electricity in the future.
The PGM suite of metals embrace platinum, palladium, rhodium, iridium, ruthenium, and osmium, with PGMs used as catalysts in applications including exhaust gas purification, green hydrogen generation, fertiliser production and in cancer therapy medicines.
As reported by Mining Weekly earlier this month, this year's platinum supply deficit prediction is up 77% to close to a million ounces, with rest-of-year platinum market indications pointing to the need to secure platinum supplies beyond the two main sources of primary mining output and recycled collection.
Over the last five years, between 73% and 77% of total yearly platinum supply in refined ounces has come from mining but the biggest deficit in ounce terms now points to demand having to be met from sources other than mined and recycled platinum, which means effectively liberating platinum from above-ground stocks. Still unclear, however, is exactly what pricing levels are needed to do that.
Among the challenges facing mine supply currently is South Africa's electricity shortage, which, with other mine supply risks, could result in primary supply being even lower than currently projected.