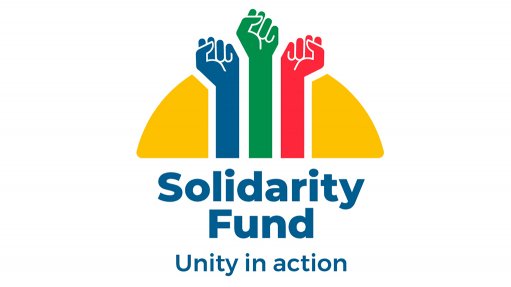 The Solidarity Fund has made available R17-million to assist government in intensifying the fight against gender based-violence (GBV), according to Solidarity Fund CEO Nomkhita Nqweni while giving an update on the fund's work six months since its inception.
She said South Africa was not only facing the Covid-19 pandemic, but also experiencing a tragic escalation in a second pandemic – gender-based violence.
"Given the reported upsurge in cases of gender-based violence in South Africa as a result of the Covid-19 lockdown, GBV has been identified as one of the areas of urgent attention under the Solidarity Fund's Humanitarian workstream," said Nqaweni.
To date the fund has already disbursed R17-million in personal protective equipment (PPE), support and aid to organisations that assist the victims of gender-based violence.
Nqweni explained that beneficiary organisations will be selected across the eco-system of GBV organisations and include those working in prevention, response and in the judicial system.
To date the Solidarity Fund has approved R2.448-billion to be spent on interventions and projects across three key pillars – Health, Humanitarian Relief and Behavioural Change.
R1.980-million has been allocated to health interventions, R411-million to humanitarian relief efforts and R56-million to education and awareness programmes.
The remaining funds will go towards 23 existing projects and 31 sub-projects.
These are divided as such:
Health Interventions – 13 projects
Humanitarian Relief Efforts – 5 Projects, 11 sub-projects
Behavioural Change – 5 Projects, 20 sub-projects
The fund has procured 41-million units of PPE and has commissioned 20 000 non-invasive locally manufactured ventilators of which 4 000 have been delivered to date.
In expanding the country's testing capability, the fund has supported the National Health Laboratory Services (NHLS) with 1.2-million reagent and extraction kits.
This allowed the NHLS to perform up to 45 000 tests a day during the peak of the pandemic.
The Fund has also committed to supporting hotspot provinces such as Gauteng, Western Cape and the Eastern Cape with the procurement of critical medical equipment.
The Fund has already disbursed food parcels to 280 000 vulnerable households, with the second phase involving the disbursement of food vouchers to a further 135 000 households including unemployed young people, expectant mothers, women, and foreign nationals.
Solidarity Chairperson of the Board Gloria Serobe said in six months the country rallied together from all quarters – businesses, government, non-profit organisations and individuals – to help fight the pandemic.
"We have seen the largest enterprises donate billions to help South Africans and we have seen individuals start feeding schemes with the money in their pockets. As we mark Heritage Month, it seems right to celebrate that particular part of our heritage. Our kindness as a nation and our ability to come together for the good of all. At six months old the Fund has had both challenges and successes. While we are hopeful that the curve continues to flatten, we would be able to start seeing our way out of this crisis.
"We know that our job is not over yet. The Solidarity Fund is committed to continuing our work of bring relief, support and information to South Africa in this time of crisis. We will continue to do so with full transformation and accountability," said Serobe.
She told Polity that her organisation was working tirelessly to make sure that while they are dealing with the crisis, they don't lose sight of cooperate governance, segregation of duties and promised that the Fund would not hide behind the fact that the organisation was launched during a crisis.