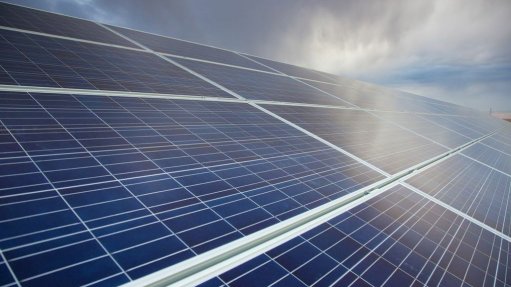 A record 295 GW of new renewable-energy capacity was added globally in 2022, with the 9.6% year-on-year growth underpinned largely by record growth in solar photovoltaic (PV) installations, which accounted for almost two-thirds of all new renewables additions with 192 GW installed.
The International Renewable Energy Agency's (Irena's) 'Renewable Capacity Statistics 2023' report shows that with installations of 75 GW wind power came in as the second most deployed renewables technology in 2022, but at a pace that had slowed materially from the 111 GW of wind added in 2020.
Some 21 GW of hydropower, 7.6 GW of bioenergy and 181 MW of geothermal capacity were also added last year, raising the global renewable generation capacity stock to 3 372 GW.
But while renewables made up 83% of all electricity capacity added last year, Irena director-general Francesco La Camera warned that yearly renewables capacity additions would need to grow at three times the current level by 2030 to limit global warming to 1.5 °C.
"To stay on the pathway to limit global temperature increases to 1.5 °C of pre-industrial levels, the world needs to see more than 1 000 GW of annual renewable capacity additions until 2050," La Camera wrote in the foreword to the report.
The Irena statistics were released a day after the Intergovernmental Panel on Climate Change (IPCC) released its Sixth Assessment Report, indicating that global temperatures had already increased to 1.1 °C above pre-industrial levels.
To diffuse what United Nations secretary-general António Guterres has termed a "climate time-bomb", the IPCC report says that "deep, rapid and sustained greenhouse gas emissions reductions in all sectors" are needed to restrict warming to 1.5 °C.
However, there are gaps between projected emissions from implemented policies and those from Nationally Determined Contributions, while finance flows fall short of the levels needed to meet climate goals across all sectors and regions.
To accelerate climate action, the IPCC reports states that there should be improved access to finance for low-emissions infrastructure and technologies, especially in developing countries.
This point has been picked up by South Africa's Environment Minister, Barbara Creecy, who in her response to the report called for a "rapid scaling-up of finance flows from global capital markets and supporting public funding from developed economies for enhanced mitigation and accelerated adaptation".
The unevenness of the current response is reflected in the Irena report, which shows that the pace of growth of renewables investment in Africa lagged other regions.
"While many countries increased their renewable capacity in 2022, the significant growth of renewables is persistently concentrated in a few countries and regions like Asia, the USA and Europe.
"Irena's data finds that almost half of all new capacity in 2022 was added in Asia, resulting in a total of 1.63 TW of renewable capacity by 2022. China was the biggest contributor, adding 141 GW to the continent's new capacity."
Renewables in Europe and North America grew by 57.3 GW and 29.1 GW respectively, while Africa's 2.7 GW represented only a slight improvement over 2021.