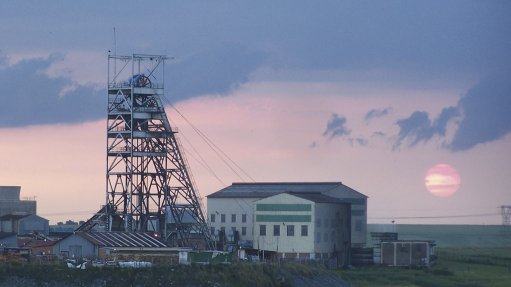 Shaft at Evander gold mine.
JOHANNESBURG (miningweekly.com) – The 10 MW solar power plant at Evander is averaging savings of $145 000 a month for the Mpumalanga gold mine, Pan African Resources said on Monday.
Construction is scheduled to begin in June on yet another solar facility, this time an 8 MW photovoltaic solar plant at Barberton Mines' gold operations, also in Mpumalanga, for which site clearance has already been completed.
Moreover, the scheduling of further large renewable energy initiatives is underway, London- and Johannesburg-listed Pan African stated in an operational update for the six months to December 31.
At Evander gold operation alone, grid electricity issues in the six months lowered production by 5%, which has reinforced Pan African's imperative to expand its renewable energy portfolio.
Group production in the six months fell by 14.6% to 92 307 oz, but with full-year guidance being maintained at 195 000 oz to 205 000 oz for the full financial year to June 30.
Barberton Tailings Retreatment Plant, or BTRP, produced 10 012 oz in the six months, an increase on the 9 126 oz of the corresponding 2021 half-year.
Elikhulu was flat with 25 830 oz (2021: 25 900 oz), Evander Mines delivered 24 443 oz compared with 33 068 oz in the corresponding six months of 2021, and Barberton Mines fell to 32 022 oz from 39 991 oz. Evander's production includes the gold equivalent platinum group metals ounces produced by the operation's Osmiridium circuit.
"Reduced gold production over the past half-year can primarily be attributed to the performance of the Barberton Mines underground operations. We believe that the concrete measures being implemented at this operation will result in a significant improvement during the second half of the financial year and in the years ahead," Pan African CEO Cobus Loots stated in a media release to Mining Weekly.
GROWTH PROJECTS
Senior debt funding for the construction of the Mintails project is expected to be finalised in April, with good economics being demonstrated at a gold price considerably lower than the current spot price by the project's definitive feasibility study.
This asset is expected to significantly increase group gold production in the years ahead. Concept engineering work on the Soweto cluster is also underway.
The interim results on 15 February 2023 will include further details on growth projects.
SUDAN EXPLORATION PROJECT
The group's first fire assay multi-element analytical laboratory commissioned in Sudan will be used for the analyses of all exploration samples being extracted from the Block 12 exploration concessions granted to Pan African by the Sudan Ministry of Mines.
An exploration team is active within Block 12A South and Block 12A North, conducting soil geochemistry and hard rock chip sampling programmes to further define the identified exploration anomalies.
Initial assaying received from the exploration targets identified in the south-eastern corner of Block 12A South averaged 1.7 g/t from 12 samples taken from quartz veins, rock debris and soil.
Some of the structures sampled indicated higher gold mineralisation, with values ranging from 2.9 g/t up to 9.4 g/t gold. These structures will be further defined over the next six weeks as part of a confirmatory sampling programme.
BARBERTON MINES REVIEW COMPLETED
Barberton's underground operations have experienced above-inflation increases in labour and energy costs, increasing depth and underground travel times at Fairview Mine, reducing available face-time, and the depletion of the high-grade 42 Level block at Consort mine.
A detailed review of operations at Barberton to mitigate these challenges has been completed and agreement reached with representative employee unions to convert Consort to a contractor mining operation, and continuous shift cycle mining, while still allowing for ongoing maintenance and other support activities, at Fairview and Sheba from next month.
The conversion of Consort is expected to result in a more optimal operating model through mining high-grade areas and reducing overheads.
Excess staff from Consort will be transferred to Fairview and Sheba to bolster the existing staff complement to meet the requirements of the new shift cycle, resulting in no large staff retrenchments.
The new continuous shift cycle is expected to result in an increase of 20% in available face time, with a progressive commensurate increase in productivity.
Future near-term cost-saving and production improvement initiatives to be implemented in the near-term include the commissioning of the new 8 MW solar energy project, optimised infrastructure plans to decongest ore flow and increase hoisting capacity, and more exploration drilling to identify down-dip extensions to mining platforms and prove-up new exploration targets.
Gold production from Elikhulu is expected to increase as material from the Leslie/Bracken tailings facility is retreated.
Secured, interest-bearing debt and net of available cash increased by 108.8% to $49.9-million in the six months to December 31.
SAFETY REGRESSION
The Pan African group has seen a fall back in safety performance at its underground operations, with lost-time injury frequency regressing to 2.54 (2021: 0.98) per million person hours, and the reportable injury frequency rate regressing to 1.34 (2021: 0.28) per million person hours.
Initiatives to improve second-half safety performance include pre-emptive production stoppages, where safety protocols are re-enforced, and a third-party systems audit for both Barberton and Evander mines to identify further areas for improvement.