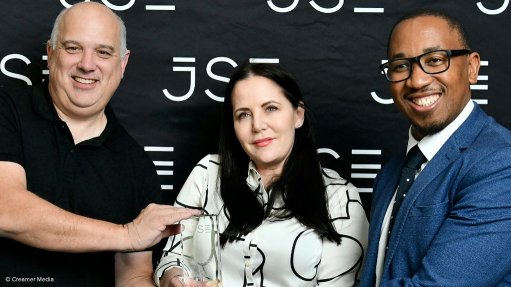 Jan Nelson, Shirley Hayes and Sam Mokorosi.
Photo by: Creamer Media Chief Photographer Donna Slater
JOHANNESBURG (miningweekly.com) – The small end of the Johannesburg Stock Exchange (JSE) received a big boost on Friday with the listing of Copper 360, which has an ambition to be Africa's next big copper play.
The alluring deep beat of the African drum accompanied investor bids that flashed across the big screen at the JSE as offers came in from investors wanting to get their hands on some of the 629.7-million Copper 360 shares listed on JSE's Alternative Exchange (AltX) under the symbol of CPR. (Also watch attached Creamer Media video.)
Copper 360 is the second company to list on the JSE this year, pushing up the number of listed companies on the bourse to 303. Collectively, these companies have an overall market capitalisation of R22.76-trillion, which emphasises the financial strength of the JSE.
Copper 360's coming to the market gives South Africans exposure to the only pure copper play available to them with further growth. The listing opens up a capital market for Copper 360 and allows the company to further develop strategic partnerships. It also raises Copper 360's profile and that of South Africa, where mining sector revenues topped the R1.18-trillion mark in 2022.
As those attending the listing watched, JSE trading operations manager Martin Koch introduced the virtual trading floor, with the three letters CPR highlighting the far lefthand corner. All data flowing across the world is referenced by those three letters and the screen showed considerable demand from prospective individual buyers, with the best price at 406c, and no sellers in sight.
Currently ranked in the Top 20 largest stock exchanges in the world by market capitalisation, the 135-year-old JSE makes real connections happen, and listing on the JSE gives companies such as Copper 360 access to liquid capital markets, while at the same time providing investors with exposure to Africa's growth potential through an entry point with a strong track record.
The Northern Cape copper mining and copper beneficiation company Copper 360 was formed in November 2022 from a reverse takeover of CEO Jan Nelson's Big Tree Copper and chairperson Shirley Hayes' SHiP Copper.
The company, which is producing 1 200 t of copper cathode a year and aiming to up copper production to 7 700 t/y, is targeting the production of premium copper with good cash margins. It produces and exports 1 m x 1 m copper plate that is 6 cm thick. Each plate weighs about 38 kg and contains 99.89% copper from an area where the copper is very pure.
Ahead of listing, it was able to raise R152.5-million at an oversubscription rate of 1.3 times.
It is interesting to note that diamond company Ekapa, which is a significant shareholder, has developed what is described as groundbreaking preconcentrating capacity for its diamond recovery plant in Kimberley, as an alternative to dense media separation.
While Copper 360 processes the copper, mills it and puts it through the plant, the Ekapa team is particularly adept at prescreening and upgrading, which has led to all eyes being on whether the promising technology that Ekapa has developed can also make a positive difference in copper that early indications point to.
"It's highly cost effective and I believe there's a major role for it to play in copper preconcentration to up the grades prior to particularly oxide plant recovery. The process is being developed in Kimberley on the back of our existing production units, which have been highly successful, and I have a strong feeling at this stage that it's going to be a dynamic game-changer to the copper industry in preconcentrating to have a higher grade going through production plants," Ekapa CEO Jahn Hohne explained to Mining Weekly.
THE FIRST MILE
Hayes described the listing of the company, following 14 years of effort, as an enormous privilege. "I'd say the first mile is the hardest. They don't call it the impossible mile for nothing, and to stand here today with our team that has pulled us through and sometimes pushed us through, is time for celebration. But the next 14 years now lie ahead."
"It took a lot of pain, and a lot of hard slogging from the team in difficult markets and a difficult environment, but we've made it to here, so we're absolutely delighted," said Nelson.
"The JSE has been absolutely fantastic in how they've helped us and I just think there's going to be more of these listings if you look at how the commodity markets have picked up. The JSE is still the fifth biggest stock exchange in the world, the biggest in Africa, so this is the place to be," Nelson added in response to Mining Weekly.
Mining Weekly: How did you stumble on this copper treasure chest?
Nelson: Credit must go to Shirley Hayes. She's been picking up all the prospects in what's now the mining licence we own. Big Tree Copper entered the scene about five years ago and built the first solvent extraction and electrowinning plant only for copper. Because Shirley was also an investor in that, we then decided to put the two companies together, because that just puts us on to super rocket fuel.
So you're mining and also beneficiating?
Yes, we are, and we're rehabilitating the environment as well by taking loose rock from old mines, working them, making copper plates, and the new plant from the mines will be making copper concentrate.
IMPORTANCE OF COPPER
JSE origination and deals head Sam Mokorosi highlighted the importance of copper for electrification and the environmental future of the planet, and expressed great delight in having an SME copper listing, against the backdrop of the JSE going all out to attract junior mining companies by cutting red tape, hosting small cap showcases, and researching global best practice that encourages the investment community to get behind opportunities such as those presented by Copper 360.
Mining Weekly: Could the government encourage more small end listings through introducing an incentive such as Canada's flow-through scheme or something similar?
Mokorosi: We love the flow-through model that has been quite popular in Canada for raising money in the mining industry and we find that there are some interesting instruments that we can use from a policy perspective, and we are engaging with government to see how we can roll those out.
How do you find the response from government at this point?
Obviously, policy takes a long time to change and to grow. We wish it could be quicker, but those conversations are happening.
EXPLORATION DRILLING UNDER WAY
Copper 360's mining right, covering 19 000 ha to the north of the town of Springbok, embraces a dozen copper mines that together offer combined mine life of 100 years plus.
In addtion, there are 60 copper prospects with advanced geological datasets. Upcoming will be exploration drilling announcements which are expected to add fuel to the already impressively burning copper mining and copper plate exporting fire. The first two boreholes confirmed historical data in every aspect from rock type to intersection widths and depths.
CAPITAL RAISING
JSE business development manager Patrycja Kula expressed excitement about Copper 360 choosing the JSE to list, and believes it to be important that unlisted mining companies out there consider the capital markets as a form of capital raising. Copper 360 set out to raise R152-million through its private placement and R90-million was committed in terms of the private placement itself and it obtained further debt funding.
If it were not for the potential listing, would Copper 360 have been able to raise that form of money from the South African investors, is the question posed by Kula, who believes there are many more steps that can be taken in South Africa to facilitate more capital formation. "Flow-through shares is something that I'm very passionate about and I do feel that if we do get a flow-through share model implemented in South Africa, it will open the market to so much more capital for the junior mining companies in particular," said Kula.
Bridge Capital Advisors executive director Pieter Veldtman highlighted Copper 360 having a respected management team with a commodity that the whole world acknowledges is in short supply and high demand.
"All the capital that they need for their development plans has been raised in a tough market, so again that's credit to the combination of what the team has been able to put together and the macros in terms of copper," said Veldtman
DIVIDEND STIPULATION
Besides Copper 360 itself wanting to list to give itself an additional platform to raise capital to develop its operations, listing was also one of the conditions of key shareholder Coronation, which also laid down that the company must pay 30% of its pretax profits as a dividend.
What is expected to help Copper 360 to garner retail investment is Copper 360 being the JSE's only pure copper play at a time of the global copper outlook being one of poor supply and high demand.