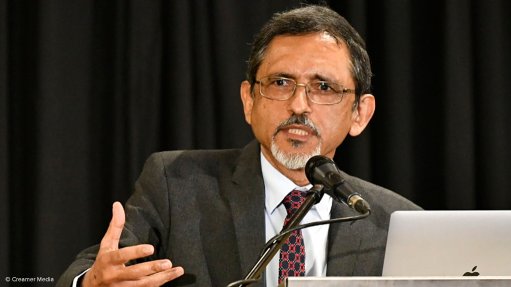 Trade, Industry and Competition Minister Ebrahim Patel
Photo by: Creamer Media's Donna Slater
The South African government has imposed a six-month ban on the export of copper and copper-alloy scrap, as well as most ferrous scrap as part of the first phase of a three-phase intervention designed to combat the rampant theft of metals used in public infrastructure.
The economic damage of ongoing theft and vandalism has been estimated at R47-billion and has amplified both loadshedding and the disruption of freight and passenger rail services.
Trade, Industry and Competition Minister Ebrahim Patel reports that the temporary prohibition of exports is effective from the publication of a Government Gazette on November 30 but says transitional arrangements have been included to allow for exports approved ahead of the ban.
The temporary prohibition was approved by Cabinet earlier in the month and follows a comment period on a draft policy outlining possible restrictions on the export of ferrous and non-ferrous scrap published on August 5.
More than 2 800 comments were received on the draft policy, which Patel says were considered prior to the finalisation of the new policy, which primarily seeks to dampen demand for stolen metals.
During the first phase, the export of copper and copper-alloy scrap, the theft of which is said to be imposing the highest economic costs, will be entirely prohibited.
Ferrous scrap exports have also been banned, but with several exceptions, including for aluminium and for stainless steel, as well as ferrous waste and scrap produced in the ordinary course of manufacturing processes.
Patel says that a permit system, to be administered by the International Trade and Administration Commission (Itac), will also be imposed on semi-finished copper exports during Phase 1 and be continued into the second and third phases.
Exports of other metals will not be prohibited but will instead be subject to a permit system administered by Itac.
During Phase 2, a licensing system will be put in place for all copper trading in South Africa and sellers of copper waste and scrap metal will need to register under the Second-Hand Goods Act (SHGA), once amended to cater for the policy change.
To register, applicants will need to show a tax-clearance certificate and dealers will be required to submit detailed purchase and sales information to a centralised database.
Registered buyers of copper scrap will also only be allowed to purchase from registered sellers.
However, it is envisaged that waste pickers will be exempt from the requirement to register under the SHGA, which will allow such individuals to sell all non-copper metals. In addition, registered dealers will be able to purchase non-copper metals from incidental unregistered sellers.
During Phase 3, government will consider amendments to existing legislation, or the passing of new legislation, to create a dedicated metal trading licensing regime.
"Prohibiting the use of cash in transactions involving waste and scrap and semi-finished metal products may also be introduced," Patel reports.
"In this case, no buyer will be allowed to be in possession of waste and scrap or semi-finished metal products unless it is backed up by an EFT or similar electronic record."
Individuals and entities may also be blacklisted from government contracts if they have contravened metal trading regulations.
Patel says the new regime attempts to strike a balance between the needs of the overall economy and society relative to those of firms and individuals whose commercial interest will be negatively affected.
'COST OF DOING NOTHING IS FAR HIGHER'
"We've looked carefully at both sides of the equation … and on the one side these measures will limit, for a period, the export of these products, but scrap metal traders are still enabled to sell those products within the domestic market; beyond that period, exports would be permitted but on a regulated basis.
"There is no question about it that there is going to be a commercial cost to some of the businesses that have built their economic model around the export of scrap metal.
"[However], when we measure that against the enormous costs to the economy of doing nothing, it is absolutely clear the economic cost of doing nothing is substantially higher," Patel asserts.
The impact of the new regulations on both theft of, and damage to, public infrastructure, as well as effects on the overall society, will be actively monitored by a newly created Metal Trade Task Force.
"Significantly stricter regulations have not been selected at this stage – including the potential prohibition of semi-finished exports, the blanket prohibition of ferrous scrap and waste metal exports, and a complete ban of all copper trading – as it is hoped that the less intrusive measures identified will have the intended effect."
Public Enterprises Minister Pravin Gordhan has welcomed the intervention, given the negative impact that ongoing theft and vandalism has had on the operations of both Transnet and Eskom.
He reports that, while Transnet has reported a 30% improvement in copper-cable theft for the year to November relative to the corresponding period in 2021, it has still lost 742 km of cable to theft and the utility has lost R700-million in revenue on the coal corridor alone as a result.
Besides delays, disruptions and derailments, the theft of cable has also forced Transnet Freight Rail to make more extensive use of its diesel locomotives given that the electric fleet is unable to operate on routes where cable has been stolen.
Police Minister Bheki Cele reports that, in parallel, the South African Police Service has established 20 economic infrastructure task teams (EITTs) during the course of 2022 to combat copper cable theft in particular.
For the year-to-date, these teams have conducted 3 076 operations and have made 1 946 arrests.
"The EITTS will be further capacitated over the medium-term expenditure framework period," Cele states.