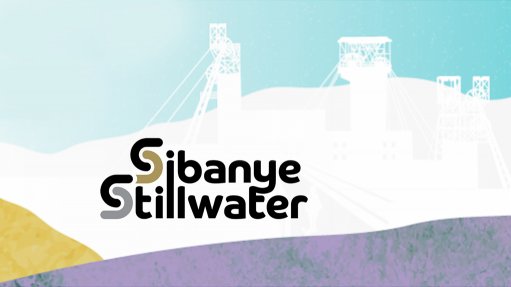 Sibanye-Stillwater's first-quarter results.
JOHANNESBURG (miningweekly.com) – Platinum group metals (PGMs), green metals and gold producer Sibanye-Stillwater is pursuing self-generation projects that will improve the security of its energy supply in South Africa, the company said on May 9 when it reported first-quarter group earnings of R7.8-billion.
With the aim of commissioning additional energy generation as quickly as possible, Sibanye is working with stakeholders to remove red tape and alleviate limited electricity network access.
The energy steps being taken by the Johannesburg- and New York-listed company are poised to decrease dependence on State-owned Eskom significantly, along with lowering carbon emissions attributable to reliance on Eskom's coal-fired generation.
In the three months to March 31, the earnings of Sibanye's gold operations in South Africa moved from a loss of R680-million in the corresponding period of last year to a positive R774-million.
Steady at R7-billion were the first-quarter earnings of the company's PGM operations in South Africa in the face of prices 19% lower than the record prices of the first three months of last year.
In the PGM operations in the US, a shaft incident at Sibanye's Stillwater West mine has delayed execution of the repositioned plan, with costs remaining elevated owing to volume shortfalls and planned expenditure on ore reserve development to improve operational flexibility.
Also in the US, continued pressure has been placed on the available feed for PGM recycling operations owing to the global economic slowdown resulting in lower automotive scrapping rates. With promising signs of an uptick in automotive sales moving into the second half of 2023, feed rates are expected to normalise.
Despite elevated energy costs and industrial unrest in France, the Sandouville nickel refinery in Normandy reported improved performance and several commercial initiatives are underway to align product mix with market requirements.
The Sandouville site is earmarked as the base to establish Sibanye's European autocatalyst recycling operations. By leveraging US PGMs recycling knowledge, Sibanye is positioned to grow its recycling presence in Europe.
The takeover of New Century Resources has built international exposure for the group's tailings retreatment business, complementing existing investment in DRDGOLD. Exposure to the US battery industry is through the investment in ioneer and the Rhyolite Ridge project, with ioneer receiving a conditional loan of up to $700-million from the US Department of Energy during the quarter.
FATALITIES
Thabiso Ramotselisi, 41, who worked as a locomotive guard at the Driefontein Pitseng shaft of the South African gold operations, was fatally injured in a rail bound equipment accident and after the first quarter, on April 13, a tragic incident occurred at the Burnstone gold project in the South Rand goldfield, where a newly constructed surface waste rock conveyor collapsed while five contractor employees were installing a head pulley. Four people were fatally injured and a fifth person sustained serious injuries and is currently receiving treatment.
"We remain committed to the continuous improvement in health and safety at our operations and we have enhanced our risk approach to make fatality prevention our main priority," Sibanye stated in a release to Mining Weekly.