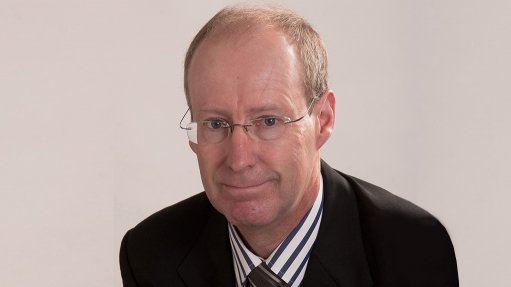 Nigel Townshend.
JOHANNESBURG (miningweekly.com) – Mining luminary of South Africa's shaft-sinking boom period at the beginning of the millennium Nigel Townshend is back in action as the newly appointed nonexecutive chairperson of United Mining Services (UMS) Limited.
Since the start of this month, Townshend has been at the top table of UMS, an underground mining and metallurgical processing solutions company.
The South African mining community will recall that in 1982 Townshend founded the prominent civil and structural design firm TWP, which was a prolific provider of engineering, procurement and construction management services to a then flourishing South African mining industry.
In 2007, Townshend listed TWP on the Johannesburg Stock Exchange amid a flurry of trumpets. In 2013, TWP was integrated into global engineering and project management company WorleyParsons and Townshend took time off to pursue numerous interests in mining and nonmining activities, advising on business strategy.
UMS, with operational headquarters in Woodmead, Johannesburg, currently has global assignments in countries including Botswana, Brazil and the US.
In a Zoom interview with Mining Weekly, Townshend outlined how he is now looking to contribute to UMS, a group being very ably led by CEO Digby Glover, another seasoned campaigner. (Also watch attached Creamer Media video.)
Mining Weekly: What do you hope to contribute to the UMS Group?
Townshend: I'm actually the chairman of the UK holding company which is UMS Limited United Kingdom and that owns all the subsidiaries which operate around the world, with the head office in South Africa. I'm really here to give some guidance. Hopefully I've managed to learn something in the sort of 40 years that I've been in the mining industry. So, some direction and making sure that all the corporate governance rules, environmental, social and governance, are dealt with in the correct manner and basically be a sounding board for the senior management and see if I can add anything from my experience or assist in any way possible with the operations. But it is a nonexecutive position so I won't be involving myself full-time. It has taken up quite a lot of my time initially. I've only been here since the beginning of April, and I spent quite a lot of time getting to understand the operation, where they're coming from as the old branding of Shafts Sinkers, and where we're going to.
What does UMS have to offer South Africa's underground mining industry?
If you cast your mind back many years ago, TWP was a professional services company, which designed, project managed mines, process plants, facilities, etc. UMS offers that service, but it takes it one step further by being able to offer the contracting ability underground and in future on the surface as well. So, again, it's pretty much a TWP, but with the ability to actually execute the mining project or the process plant project.
What can UMS' metallurgical processing insight provide?
It's a bit early for me to answer that question in too much detail, but we have a good team of process engineers who has several projects on the go at the moment. It's mainly in the design phase and the operational improvement phase. But we're looking at adding to the skills base to encompass the sort of birth-to-death of particularly a hydrometallurgical process plant.
Mining Weekly is very interested in hydrometallurgical processes because we have a situation in South Africa where the pyrometallurgical processes take up a lot of scarce Eskom energy. So do you think that hydrometallurgy will be the dominant path adopted rather than the pyrometallurgical process?
I think there has to be a move in that direction. I'm not really up to speed with the latest in the new technology, but there's obviously some big developments in that area, and should that prove successful, that's going to be a big game-changer for the minerals industry.
Your former TWP was involved in some of South Africa's celebrated shaft-sinking projects. What are the shaft-sinking prospects like given the need of the world to move fast to procure critical minerals such as lithium, rare earths and copper for widespread electrification, or will it be more opencast?
I think let's get the history out there first. Nobody wants to go underground. It is a more dangerous activity than operating on surface. In some regions, particularly the Bushveld Igneous Complex in South Africa, the temperature gradients are very high, so operating underground really pushes you up the cost curve. However, having said that, once you've mined out the accessible-from-surface minerals, the only option is to go underground. And we're seeing that in various countries. In Botswana, we have a diamond project where the openpit is coming to the end of its life and we're taking that operation into an underground operation. The same applies to the copper project we're working on in Brazil. Our project in the United States is not minerals related. That involves sinking a 1 000 m odd shaft for the nuclear waste industry. Then there are various other projects that we've got in the pipeline. It is very much unfortunately a grudge purchase but having accepted the fact that you can no longer as the client exploit the openpit resources, whatever commodity you're looking at, you don't have a choice. You either close the operation down or you go underground, and obviously that depends on the economics. We aim to be able to offer the best advice, the best design and to execute the project with as little risk both to personnel and financially as is humanly possible.
With TWP, you were virtually joined at the hip to the platinum group metals industry. Is UMS also joined to specific metals and minerals in the same way?
No, not at all, and TWP also did lots of projects outside the platinum industry. We were lucky though that there was a lot of activity in the platinum sector around that period in time. But no, now we're dealing with diamonds, copper and other commodities as well. It's not commodity specific and there already is a push for battery minerals as well.
Are there specific metallurgical processing requirements for the new critical minerals era of lithium and rare earths?
As a sort of honorary mining engineer, I'm not sure I'm the correct person to answer that question, but I think the technology is relatively well understood.
What percentage of UMS' resource base is domiciled in South Africa?
At this point in time, probably only about 20% of UMS' workload is in South Africa. The balance at this point in time is operating in Botswana, Brazil, North America, and we're looking at projects in Chile now as well, so it's a global operation.
What, in your view, should be the biggest takeaway from this interview?
Firstly, UMS can offer a solution for the clients from the early phase of resource identification, all the way through to constructing and handing over minerals or a metallurgical facility or a mine. We can get involved at various stages obviously, but I think understanding everything from A to Z puts us in a unique position to be able to offer the best solution for the clients. Another advantage is that UMS owns a lot of winders and mining equipment, which puts them in a unique position to start a project fairly quickly. If you order a new winder these days of any decent size, you're probably looking at three years, whereas we have these on the shelf. Okay, they may need some refurbishment depending on the local conditions, local voltages, phases, etc, but generally we can speed that entire process up by having that equipment available, and I think we're one of the few companies in the world that can offer that equipment off the shelf.