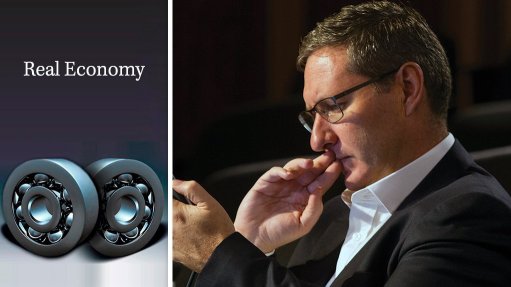 The reactions of Julius Malema and Gwede Mantashe respectively to recent negative media reports show up stark differences in both style and substance.
True, the allegations published about Malema's illicit windfall following the unconscionable plunder of VBS Mutual Bank are vastly more serious than Mantashe's embarrassing appeal for Australian miners to consider investing in the extraction of a non-existent mineral. Nevertheless, Malema's decision to ban amaBhungane and Daily Maverick journalists from attending future Economic Freedom Fighters events shows not just how thinned skinned the commander in chief is, but also points to a frightening disdain for democracy and democratic principles, such as freedom of expression.
By contrast, Mantashe rolled with the punches, even slightly delaying a recent media briefing to ensure that the journalist who broke the hoax-mineral story was present before thanking him for ensuring that he was the recipient of two inauspicious awards: the Sunday Times' 'Mampara of the Week' and also the 'April Fool of the Year'. The Mineral Resources and Energy Minister also sought to take ownership of the mishap, denying that blame lay solely with a young speechwriter, who he insisted would not be fired. He even went as far as to liken the incident to a learning moment similar to the one often related by US business personality Jack Welch, who was guided rather than fired by the General Electric leadership at the time after he "blew up the factory" in 1963 when one of his experiments went disastrously wrong.
Exhibiting democratic values does not automatically make Mantashe right when it comes to policy, however. In fact, during the balance of the briefing it was apparent that many of the current problems afflicting South Africa's energy sector, especially the electricity subsector, are not being properly diagnosed. As a result, the possible remedies could do more harm than good.
For instance, Mantashe's view that Eskom's coal problems will be solved through price setting is simplistic. Eskom definitely has a problem with surging coal costs, but it also has a complex set of contracts: partly the consequence of depleting resources at its cost-plus mines and partly the result of a lack of investment in those operations. The gap has increasingly been filled through short-term contracts, sourced from mines that are some distance from the power stations. How price indexing will solve the problem of a lack of investment in mines that are in close proximity to the stations is far from clear. Typically, price-control mechanisms tend to crimp rather than stimulate investment.
Likewise, the Minister's view that Eskom's financial woes will be eased through a renegotiation of the renewable-energy independent power producer (IPP) contracts is misguided. The utility suffers no prejudice from the contracts, which have been catered for in Eskom's allowable-revenue applications and have not once been disallowed by the regulator, unlike its "imprudent" use of diesel to cater for an underperforming coal fleet. Any move to renegotiate the contracts at a time when South Africa will be seeking yet more IPP investment will be counterproductive. In fact, it would also bring into serious question whether government will honour its other public-private partnership commitments at a time when more, not fewer, of such transactions will be required to deliver much-needed public infrastructure.
As if that were not enough, there are also signs of a growing misalignment between Mantashe and Eskom over the electricity price path. Mantashe says tariffs are too high and are killing industry, while Eskom is warning that they have yet to reach cost-reflective levels.
Fortunately, the Minister's democratic inclinations will mean that he won't go it alone. In other words, democracy could yet save the day.