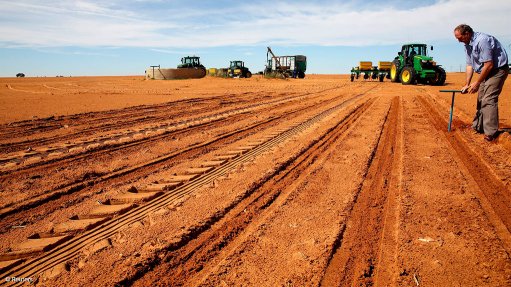 Photo by: Reuters
The South African Property Owners Association (Sapoa) has raised concerns, particularly in relation to food security, agricultural production and the economy, following the recent motion by the National Assembly to amend the Constitution to allow for land expropriation without compensation.
The Economic Freedom Fighters brought the motion on expropriation of land without compensation for debate in Parliament on Tuesday.
It was passed with the support of the African National Congress, Inkatha Freedom Party, National Freedom Party, United Democratic Movement, Agang, African Independent Congress and African People's Convention.
Sapoa said that while historical land dispossession needed to be addressed, it was critically important that South Africa navigate through the sensitivities, with the greater vision being to ensure that the imbalance was dealt with and that economic stability continued to be reinforced.
Sapoa CEO Neil Gopal said it supported a land expropriation process where the rights of present and future landowners are balanced with the need to ensure stability and economic growth.
Gopal agreed that the racial inequalities in land, resulting from the country's colonial past and the violent dispossession of indigenous people of their land, needed to be reversed.
"But we need more clarity and debate on the factors responsible for the slow pace of land reform, and we welcome engagement with the Constitutional Review Committee on these matters," he said.
Sapoa suggested that the key challenges facing South Africa, including high levels of unemployment, structural poverty and inequality, needed to be resolved but that land reform to achieve this should be handled in a sensitive manner.
Gopal concluded that it was understood that the country could not afford to protect private property "with such zeal that it entrenches privilege, creates further inequality and entrenches poverty".
"This is a recipe for instability. The guarantee of private ownership to ensure investment, in tandem with addressing the ills of the past, is fundamental to a stable democracy," he said.