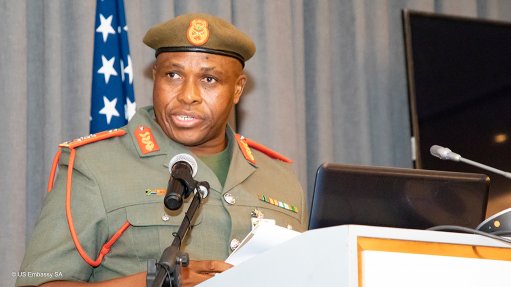 Lieutenant General Lawrence Mbatha
Photo by: US Embassy SA
The South African National Defence Force (SANDF) has confirmed that South African army chief Lieutenant General Lawrence Mbatha is in Moscow for a bilateral meeting between the two military establishments.
The SANDF stated that the engagement was a long-standing arrangement and added that South Africa receives numerous military delegations into the country and sends its own to other countries.
Mbatha's visit takes place as the South African government stands accused of providing Russia with weapons and ammunition when the Russian vessel, Lady R, docked at the Simon's Town naval base in Cape Town last year.
US ambassador to South Africa Reuben Brigety made the claims last week prompting a meeting with Minister of International Relations and Cooperation Naledi Pandor.
"I was grateful for the opportunity to speak with Foreign Minister Pandor this evening and correct any misimpressions left by my public remarks. In our conversation, I re-affirmed the strong partnership between our two countries and the important agenda our Presidents have given us," he said in a tweet following the meeting.
The Presidency announced an inquiry, to be led by a retired judge, as questions surrounding the contents of the Russian ship remain.
ANC secretary-general Fikile Mbalula has said that the party is planning to engage Brigety on the arms allegations.