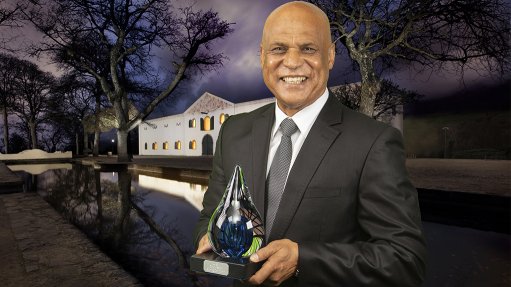 Rydal Jeftha with his prestigious Growing Inclusivity award
Vinpro stalwart and wine industry favourite Rydal Jeftha received the prestigious Growing Inclusivity award for his inspiring example in the South African wine industry, the way he paves for others by doing away with obstacles, his transfer of knowledge to others and his overall impact on the image of the South African wine industry.
He was honoured at the annual SA Wine Commemorative event on 2 February along with Ken Forrester (1659 Visionary Leadership), Wendy Jonker (Wine Appreciation and Wine Promotion) and Erna Blancquaert (Wine and Viticulture).
"Rydal has made a remarkable difference in our industry over so many years," says Anton Smuts, Vinpro chairman. "He has significant experience and displays true leadership, not only in emerging agriculture, but also in spearheading various initiatives, such as Thandi Wines and Koopmanskloof, one of the largest – if not the largest – Fairtrade exporters in the world."
Rydal has accumulated 42 years of experience in the agricultural industry, 20 of which he spent being closely involved in the wine industry. He has been making an impact in management at Lourensford, Ceres Fruit Processors, Capespan and Vinfruco, among others. He also led the pioneering empowerment project, Thandi Wines, to huge successes and has been serving as managing director at Koopmanskloof Vineyards for the past 16 years.
In addition to his management skills and leadership in the field, Rydal initiated several pioneering actions in the wine industry. Under his leadership, the first Fairtrade wine was produced worldwide and honoured with a gold medal. Under his guidance Thandi Wines' wine sales grew from 500 cases to 42 000 in two years, and he transformed Koopmanskloof from a bulk wine producer in the local market to an international exporter in bulk and packaged wine. He is the recipient of several awards nationwide, is a board member of Vinpro and Wines of South Africa (WoSA) and a mentor for various young people interested in agriculture and wine.
"Rydal truly is a worthy recipient of this prestigious award," says Smuts. "He is not only an expert in his field but is also enthusiastic about sharing and exchanging ideas and best practices with anyone, from students to vineyard workers, producers and colleagues."
"We are very proud of Rydal," says Rico Basson, Vinpro MD. "He is a leader, mentor and pioneer in the wine industry. But more importantly, he is also an ever-popular teacher with an incredible gift of working with people from all walks of life."
The SA Wine Harvest Commemorative Event is held annually on 2 February in commemoration of the first vintage on South African soil in 1659. At the event, hosted at Groot Constantia, the 2022 harvest was blessed, the wine industry's 364th anniversary was celebrated and trailblazers in the industry were honoured.
Issued by Vinpro and Wines of South Africa