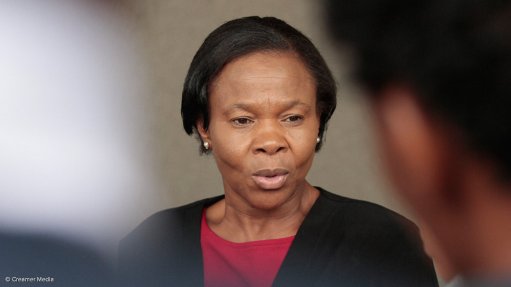 Minister in the Presidency for Women Susan Shabangu
Photo by: Duane
Madam Speaker
Honourable Members
Distinguished Guests
We continue to draw inspiration from the words of wisdom from our icon President Nelson Mandela – in his statement – I quote:
"We out to imprint in the supreme law of the land, firm principles upholding the rights of women."
Our government remains committed to advancing and protecting the interests of women in all spheres of life.
There are success stories of initiatives and government programmes that sought to empower women by addressing disparities in our economy.
This government has made progress in women empowerment especially in the public sector.
What remains a challenge is: how do we translate successes in employment parity currently in government – to the private sector?
Madam Speaker, it is how we translate achievements in government to the private sector in terms of our advancement in women that our success should be measured.
Our Constitution has a specific emphasis on equality – which also translate to equal pay for the same work.
The Employment Equity Act as amended seeks to achieve equity in the workplace by promoting equal opportunities and fair treatment. It further eliminate unfair discrimination in employment by implementing affirmative action measures to redress the disadvantages experienced by designated groups which include women.
We are proud as the ANC government. We have been able to achieve equal pay for equal work in the public sector. We therefore call upon all employers to take steps in eliminating discrimination in the workplace by ending unfair practices such as paying employees disproportionately for the same work.
Failure to adhere to this employment equity requirement will amount to unfair discrimination which goes against the spirit of the Constitution.
What remains most challenging for women in realising their full potential in our economy remains Access to finance including from Development Finance Institutions.
In our radical economic transformation – all South Africans have a responsibility to ensure that women benefit from the shake-up in the current structure, systems and institutions of our country.
Patterns of ownership and control of the economy should change in favour of all South Africans, the majority of whom are Africans especially women.
It is easier to paint a chronology of how the Black majority were marginalised from meaningful participation in the economy.
However, it remains our desired outcome to achieve parity of representation – and we therefore have embedded gender balance to avoid repeating mistakes of the past.
This calls for gender mainstreaming – which is about assessing the different implications for women of any planned policy action, including legislation and programmes in all areas and levels.
In the task that lies ahead, government will not only be monitoring progress in terms of women empowerment in all areas of our economy – but will also ensure there are specific targets designated for women.
Madam Speaker, Socio-economic concerns where women continue to have high rate of unemployment continues.
Whilst we acknowledge that participation by women in the construction industry remains low, we urge for a renewed sense of urgency to support women-owned businesses.
There are established women-owned enterprises working in construction and it is our call for them to avail themselves of these opportunities and showcase quality and competitiveness of their offering.
It is only through their meaningful participation in these programmes that they can grow and bring certainty to their future existence.
It is important that women-owned emerging businesses have access to resources including access to finances necessary to participate meaningfully in our infrastructure programmes.
Our failure to facilitate access to funding will continue to marginalise women and undermine transformation.
The shared value of our investments in infrastructure should also be measured by the extent to which women-owned enterprises are empowered as beneficiaries.
We are committed to ensuring that this is not an afterthought – but a deliberate objective towards equity.
Madam Chair, the 2016 KPMG study on Women's Leadership has found that a majority of women aspire to hold top leadership and board roles, but often find it difficult to see themselves as leaders.
These are the shortcomings identified by the study: confidence- building and leadership training – along with the ability to network with women leaders – as key elements to expanding women leadership in the years ahead.
Further, it also found that organisations benefit when their leadership has diverse perspective and experiences to draw from.
South Africans – especially the private sector should have take valuable lessons for us as we aspire more women to hold top leadership positions and board roles. This calls upon the South African private sector and captains of the industries to ensure that they take a conscious decision to ensure women are part of their outlook and destinations.
It further reflects that gender diversity in corporate boards has a positive impact on decision-making – and that women executives build better workplace relationships.
This government has also made remarkable progress in advancing women and gender parity in the workplace in a relatively short period of time.
Sustainable Development Goal 5 enjoin us to achieve gender equality and empower all women and girls. All governments have to mainstream gender equality and empowerment of women in all their Sustainable Development Goals.
As part of Africa, South Africa is not left behind in science and technology in the continent. We are proud of the stellar achievements of South African women who are recipients of the Kwame Nkrumah Scientific Awards. During the African Union Heads of State Summit the following South Africans were awarded:
In 2016, Professor Tebello Nyokong won the Kwame Nkrumah Scientific Award in science and technology for her contribution towards the effective treatment of cancer and the fabrication of sensors for various environmentally, biologically and medically important molecules.
Madam Speaker, in 2017, Associate Professor Celia Abolnik won an award for her research in avian respiratory viruses, especially those that affect chicken and ostrich production in Africa.
The inclusion of women in positions previously preserved for men is a thing of the past. Women are competitive in Science – Engineering – ICT – Technology and Finance.
Women continue to constitute the majority of students enrolled at our universities and TVET colleges – and continue to perform better in technical fields of Engineering, Finance and ICT. This government continues to make resources available for women to further advance their studies in various fields.
The Department of Science and Technology has provided 9353 bursaries, of which 5435 were offered to women. Out of 3239 doctoral bursaries, 1699 were offered to women by Quarter 3 of 2016/2017. Siya Qhuba Sihlalo!
Of the research grants provided to researchers by DST at universities and research institutions – out of 4175 that received grants – 1566 were women.
In our quest to liberate women, we are inspired by Maya Angelou's quote – I quote:
"You may write me down in history with bitter, twisted lies. You may trod me in the very dirt – but still, like dust, I will rise!"
We recognise the work of pioneers in advancing the women struggle. Charlotte Maxeke's work in organising the anti-pass laws campaign in 1913 in the Free State and the establishment of the Bantu Women's League – set the scene for the formation of the ANC's Women's League. Later in 1956, this is the organisation which led the historical 1956 March – which celebrated its 60th anniversary last year. This March was led by the following stalwarts who embodied non- racialism, none-sexism by leading the 1956 March: – Lilian Ngoyi, Sophie De Bruyn and Helen Joseph.
Collectively, these efforts paved the way for the emancipation of women. Today in 2017 – sitting in this House – we are all beneficiaries of the heroes and heroines of this struggle.
Madam Speaker, his Excellency Jacob Zuma in his State of the Nation Address in February 2011, stated that:
"Given our emphasis on women's health, we will broaden the scope of reproductive health rights and provide services related to amongst others, contraceptive, sexually transmitted infections, teenage pregnancy and sanitary towels for the indigent".
Our current health system provides free access to contraceptives; provides access to health services for sexually transmitted diseases and work to prevent child pregnancy. What remains is the provision of sanitary towels for the indigent girl child.
For most indigent women, menstruation is often a rather inconvenient biological reality against which there is no control.
Attending to this recurring biological inconvenience is expensive for most ordinary women – yet this product are a necessity and rank high in the hierarchy of women's needs.
For the young women and school-going girls reaching puberty, there is a relationship between absenteeism arising from the discomfort and humiliation associated with lack of access to feminine hygiene product – particularly for those in the rural and urban areas, townships and informal settlements.
While the impact of such absenteeism has not been studied, it is reasonable to deduce that poor academic performance by young women and school-girls can be attributed to lost learning days and often leads to dropouts.
In response to this national challenge, we will be returning to this house with relevant policy proposals.
Madam Speaker, amongst others, what has facilitated our improved performance towards gender equality has been the commitment of the ANC in advancing and recognising the importance of the emancipation of women in our country. The ANC's 52 National Conference in Polokwane resolved on a Zebra Policy for gender equality. We have an obligation to address gender inequalities alongside those relating to race. I want to change the opposition to follow suit.
Eliminating violence against women is a prerequisite for gender equality and the empowerment of women.
In 2016, the President launched the roll out of the National Dialogues during the 16 Days of No Violence Against Women and Children. We have since adopted a 365-days programme on eliminating violence against women and children – because every hour, there is a woman or a child who is abused or violated. We are rolling out the programme to all provinces in partnership with various government departments, civil society and the private sector.
Further, the Department of Social Development, also partnered with the private sector on gender-based violence through a national 24-hour hotline service which provides access to services of the Police and counselling by Social Workers and Psychologists.
We must diversify ownership in the financial services sector to reflect the demographics of our society and women representation. The outlook of black ownership in the top 100 companies on the Johannesburg Stock Exchange is not encouraging.
The representation of Black women in such companies at board and executive levels is obviously not encouraging.
As part of our quest for employment equity, government will work with the private sector to drive transformation objectives for the common good.
In South Africa, access to finance by women continues to be a challenge. A 2016 study by Oliver Wyman, on women's progress in the world's financial services sector found that at current progress, executive committee in the global financial services industry will only reach 30% of women representation in 2046.
Madam Speaker, South Africa cannot delay mending the gender gap. It is therefore our objective to reach the target of 30% representation well before 2046. Women are equally knowledgeable and competitive – and there is no doubt that we are able to hold our own on a number of levels including ownership and corporate boards.
It is therefore imperative that corporates are not indifferent to the advancement of women and must maintain a strong pipeline of female leaders based on competitiveness – because we want more in an equitable fair manner!
Thank you!