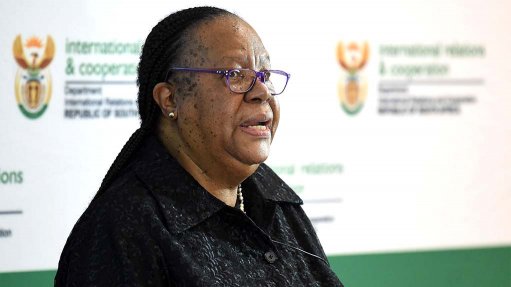 International Relations and Cooperation Minister Naledi Pandor
South Africa needs to forge stronger relations with countries that contributed to its struggle for freedom, International Relations and Cooperation Minister Naledi Pandor said during a state visit from Tanzanian President Samia Suluhu Hassan.
"It's essential that we form strong relations, particularly with countries that form what we call the Frontline States. Those are really the countries in the region and the continent that [put] their all [into] our struggle for freedom," Pandor said.
The Frontline States were a coalition of African countries from the 1960s to the early 1990s that were committed to ending apartheid and white minority rule in South Africa, and then Rhodesia.
The countries included Angola, Botswana, Lesotho, Mozambique, Tanzania, Zambia, and Zimbabwe.
Pandor said that to a degree, although she was pleased with the cooperation between South Africa and Tanzania, she believed much more should be done to forge "far stronger links than those we have pursued up to now".
She added that "the areas in which we anticipate greater cooperation are of course in trade, which is very important for South Africa because it results in job creation as well as ... growth and investment into our country".
"We would also like to strength the people-to-people relations. Imagine the documentaries and films that we could make about our cadres in the camps of Mazimbu (a small town in Tanzania that played an important role in the struggle for quality education for ANC exiles during apartheid)," Pandor said.
She also referred to "the Morogoro conference of the ANC in Tanzania, "which was a very important revolutionary conference of the party that is now the governing party".
Pandor said there was so much in the cultural sphere of history that the two countries could work on together.
"We really would like to make it a centrepiece of tourism in the southern African continent so that our history becomes part of the consciousness, not just of our people but of the global community to understand our struggle, its character, and what it means in terms of the freedom that we enjoy today," she said.
President Cyril Ramaphosa hosted his counterpart, Hassan, at the Union Buildings in Pretoria on Thursday.
The state visit took place as the two countries hosted the second session of the South Africa-Tanzania Bi-National Commission.
Deputy President Paul Mashatile also took part. It was his first visit involving a foreign president since his appointment last week.