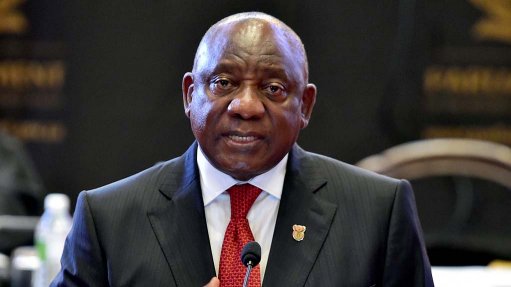 President Cyril Ramaphosa
Minister of Cooperative Governance and Traditional Affairs, Dr Nkosazana Dlamini Zuma,
Deputy Minister of Cooperative Governance and Traditional Affairs, Ms Thembisile Nkadimeng,
Premier of the Western Cape, Mr Alan Winde,
Executive Mayor of the City of Cape Town, Mr Geordin Hill-Lewis
Acting President of SALGA, Councillor Deon De Vos
Honourable Amos Masondo, NCOP Chairperson
CEO of SALGA, Mr Xolile George,
Directors General,
Provincial leadership of SALGA,
Ladies and Gentlemen,

Thank you for the opportunity to address this National Conference of the South African Local Government Association.

It is 25 years since SALGA was formed.

And for 25 years, SALGA has performed a critical role in supporting our municipalities and championing the needs of communities across the country.

This national conference will be electing new leadership, reviewing and strengthening SALGA's systems and processes, and adopting a new organisational strategy for the next five years.

We have come together as mayors, councilors, local government representatives and representatives of provincial and national government because we share a common determination to fundamentally improve the lives of citizens.

Over the past 28 years of democratic government we have made commendable progress in delivering basic services to the people, especially the poor and vulnerable.

We have provided clean and safe water, decent sanitation and electrified homes.

We have built houses, clinics and hospitals.

We have provided free basic and tertiary education and free primary healthcare.

We have an extensive social security net.

The task before us now is to consolidate these gains, to deepen them and to ensure that we realise the aspirations of the South African people.

Municipalities are the first point of contact between government and the people.

When there are local government failures, the effects are felt immediately and they are far-reaching.

Three months ago we held local government elections, in which the people of South Africa once again exercised their democratic rights freely and fairly.

However, we should be concerned about the low voter turnout across the country and what this says about voters' experiences of local government.

A report prepared by the Department of Cooperative Governance in June last year noted than only five per cent of our country's municipalities were financially stable.

Others are in financial distress, with insufficient revenue to meet their expenses.

Some 64 municipalities are considered to be dysfunctional.

This dysfunction is rooted in poor governance, weak institutional capacity, poor financial management, corruption and political instability.

By June last year, some 26 municipalities had been placed under administration.

This number has now risen to 31 municipalities under administration.

We continue to hear about municipalities under threat of administration.

Many residents have lost faith in the ability of local government to meet their needs.

So too have many investors.

To take just one example, in June last year, the dairy group Clover closed the country's largest cheese factory in North West, citing ongoing challenges with water, electricity and road infrastructure.

Clover is just one of a number of companies that have been affected by poor service delivery, forcing them to move their operations elsewhere and depriving needy parts of our country of investment and employment opportunities.

The challenges in municipalities do not only affect the lives of communities.

They damage both local economies and the South African economy.

This need not be the case.

We have the means to correct this problem.

Much of this responsibility is carried by the newly-elected councillors and by the municipal officials with which they will be working.

Local government is where you can make the biggest difference in the lives of our people.

Local government is the most important enabler of economic growth and development.

By providing reliable water supply, sanitation, energy and refuse services, and through road and infrastructure maintenance, local government enables our economy to grow and create employment.

As leaders across government, we have to work with all stakeholders in municipalities to deliver a better life to our communities.

This calls for decisive leadership and accountability.

We must focus on building municipalities that are sustainable, efficient and free of corruption.

The Municipal Structures Amendment Act, which came into effect on the 1st of November 2021, introduces an enforceable revised Code of Conduct for councillors.

This Code introduces consequences for those who do not uphold and adhere to it.

As the different spheres of government, we are committed to a range of additional measures to strengthen local government.

They include institutionalising acceptable levels of performance and service delivery for councils.

These measures include a campaign to construct and maintain water and sanitation infrastructure, speed up processes to ensure energy security and fully implement the provision of free basic services.

To deliver on their responsibilities, municipalities must address poor revenue collection.

Municipalities are owed billions by businesses, government entities and households for services rendered.

In line with the campaign led by the Deputy President known as Responsible Citizenry, we must urge consumers of municipal services to pay for what they receive.

We should encourage good citizenship and promote a culture of payment for services.

This conference should make a call to all who use municipal services – beginning with government entities – to lead by example and ensure that their municipal accounts are paid.

In the State of the Nation Address, I reiterated our commitment to the District Development Model to grow local economies, create jobs and deliver services better and faster.

The District Development Model aims to improve coordination between national, provincial and local governments, and between government and its social partners.

Through this Model, we aim to energise our entire system of cooperative governance, and bring coherence to planning and implementation.

Once it is fully operational, we will know at all times what is needed, where it is needed, how it will be done, by whom and exactly how much it will cost.

The Department of Cooperative Governance, in partnership with several stakeholders, has been developing profiles for each of the country's districts and metros.

The profiles reveal the specific challenges and opportunities in these areas, such as gender composition, social infrastructure, the number of child-headed households, and levels of poverty and illiteracy.

Having these profiles in hand, we are then able to develop an intergovernmental plan for each district or metro.

Known as the One Plan, this sets out a long-term strategic framework to guide investment and service delivery in the specific district or metro.

Through these One Plans, we are forging innovative partnerships with communities, businesses and other stakeholders to improve and accelerate implementation of key development projects.

We are looking to the District Development Model to help put South Africa on a new path of socio-economic and spatial transformation.

In conclusion, I wish you well in your deliberations in the coming days.

I have no doubt that each one of us understands the urgency of this moment.

Let us turn adversity into opportunity.

Let us turn local government around.

I wish the new leadership of SALGA and all councillors well in the all-important task of improving the lives of the people of South Africa.

I thank you.