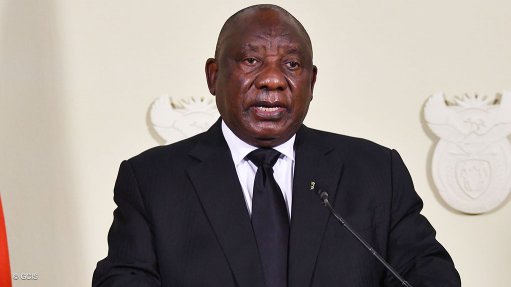 President Cyril Ramaphosa
Photo by: GCIS
Speaker of the National Assembly, Ms Nosiviwe Mapisa-Nqakula,
Chairperson of the NCOP, Mr Amos Masondo,
Premier of KwaZulu-Natal, Mr Sihle Zikalala,
Premier of the Eastern Cape, Mr Oscar Mabuyane,
Honourable Members,
At this hour, across the nation, men and women of all faiths and beliefs are observing a moment of prayer for those who lost their lives and for those who are still suffering as a result of the catastrophic floods that ravaged parts of our country and the fires that displaced hundreds of people in this city.
The National Religious Forum is conducting at this very minute a Walk of Witness at some of the flood-affected areas of KwaZulu-Natal to assess the situation and offer solidarity and pastoral care and counselling
The National Religious Forum has called on all South Africans to use this time, at 2pm, for a collective nationwide prayer event.
We applaud our religious leaders for providing comfort, support and encouragement at this time of national grief.
Two weeks ago, a great tragedy befell our nation, causing catastrophic loss of life and widespread destruction.
The floods in parts of KwaZulu-Natal, the Eastern Cape and North West were of such force that they laid waste to nearly everything in their path.
Hundreds of people lost their lives. Many are still missing.
Hillsides, homes, roads, bridges and other infrastructure were washed away.
Factories, warehouses, shops, public buildings, farms and fields were flooded.
Just when we were rebuilding the lives shattered by the COVID-19 pandemic, just as our economy was showing signs of recovery, we have been plunged into mourning once again.
I want to thank you for agreeing to this special joint sitting of the Houses of Parliament so that the members of the National Assembly and the National Council of Provinces could express solidarity for those who have passed away and the injured.
Full speech attached.