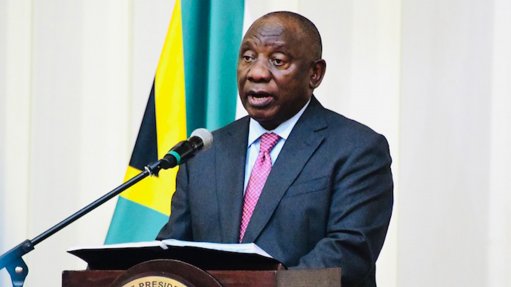 President Cyril Ramaphosa
Your Excellency President Samia Suluhu Hassan,
Ministers,
Officials,
Members of the Media,

Ladies and Gentlemen,

Good Afternoon,

We have held productive discussions with Her Excellency President Hassan and the delegation of the Government of the United Republic of Tanzania.

It has been an honour and privilege to host you, Your Excellency, on your first State Visit to South Africa.

The fraternal bonds between Tanzania and South Africa are well-known, and were forged in the trenches of struggle.

There are many stories and historical accounts of the days when Tanzania gave shelter and comfort to our freedom fighters.

The solidarity and protection afforded us by the people of Tanzania in those dark days sustained us in our fight against an oppressive state which deprived the majority of our population of fundamental human rights.

We remain indebted to your nation for your role in ushering in the rights all South Africans have been able to access during nearly three decades of freedom.

This success of today's State Visit is a dividend of our shared history and it is a baton we can confidently pass to generations of Tanzanians and South Africans who will advance our relations in a rapidly changing Africa and a changing world.

The difference that these relations make in the day-to-day life of individuals, businesses and stakeholders in our two countries are an important building block of our shared realisation of our Continent's Agenda 2063.

This State visit has coincided with the 2nd Session of the South Africa - Tanzania Bi-National Commission. We have had the opportunity to take stock of the state of our bilateral cooperation and to identify new areas of cooperation.

To date, 15 sectoral Agreements and Memoranda of Understanding have been signed between our two countries.

We have just witnessed the signing of two more Memoranda of Understanding.

We are pleased that there are other Memoranda of Understanding that have been finalised, and we expect the respective Ministers to sign the finalised MoUs before the end of 2023.

This work will be anchored and coordinated by the Foreign Ministries of the two countries, supported by a Mid-Term Review Mechanism that will monitor implementation of the Bi-National Commission's work.

A key aspect of our bilateral cooperation is the promotion of trade and investment between our two countries.

President Hassan and I will be joining the South Africa-Tanzania Business Forum later today, which brings together business people from our respective countries.

Among the industries under discussion at the Business Forum are agriculture and agro-processing, oil and gas, mining and infrastructure development.

We look forward to engaging the business sectors of our two countries as they are our partners in socio-economic development.

We also had an opportunity to exchange views on regional, continental and global issues of mutual interest.

Among other matters, we reaffirmed our shared resolve to ensure that the people of Western Sahara are able to exercise their right to self-determination. We will resist any efforts to frustrate the legitimate aspirations of the Saharawi people or to diminish their standing within the African Union.

South Africa and Tanzania share common values and aspirations for stability and development of the Continent and for strengthened cooperation among the countries of the Global South.

There is indeed still much work to be done, but I am confident that we have laid a firm basis on which all of us can build going forward.

I now invite you, President Hassan, to give your remarks.

I thank you.