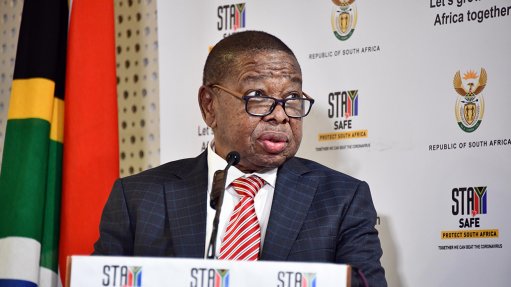 Minister of Higher Education, Science and Innovation Dr Blade Nzimande
Programme Director, Ms Redi Tlhabi
The Minister of Health, Dr Zweli Mkhize;
The DSI Director General, Dr Phil Mjwara;
Deputy Director Generals present;
Biovac representative, Dr Morena Makhoana
Sanofi representative, Mr Stephen Alix
Officials from all government departments;
All role players within the vaccine research and development (R&D) and manufacturing landscape;
Invited guests;
Ladies and gentlemen
It gives me great pleasure to be officiating at this virtual meeting to announce Biovac commencement of the local manufacturing of a leading six-in-one paediatric vaccine, Hexaxim during the month of November 2020.
I take this opportunity to congratulate Biovac on this groudbreaking and life saving achievement.
This vaccine Hexaxim is the world's first fully liquid hexavalent (6-in-1 vaccine) that seeks to prevent six childhood diseases, namely, diphtheria, tetanus, pertussis, hepatitis B, haemophilus influenza B and polio myelitis.
This is a significant milestone for Biovac and South Africa's ability to build manufacturing capabilities for vaccines and follows years of technology transfer from Sanofi to Biovac.
The announcements marks almost two decades during which South Africa's vaccine production declined and this development today will result in many positive spin-offs for our country.
When Biovac was created, the annual cost of vaccines was estimated to be in the region of R188 million – this cost has subsequently escalated to more than a billion rand.
Hexaxim accounts for more than 37% of the expenditure with more than 3 million doses purchased annually. These have up until now been imported by Biovac for distribution under the EPI.
The local production of Hexaxim is the first EPI vaccine that will be manufactured in South Africa and is a strong indication of the technical abilities of South African scientists.
It will also contribute to a reduction in the balance of payment, as an estimated R350 million per annum will be retained in South Africa. Hexaxim also provides for a large portion of the sales by Biovac and is one of the essential vaccines to ensure the sustainability of Biovac.
As we may know, Biovac is a public-private partnership between the South African government (represented by the DSI) and the Biovac Consortium, created to revitalise human vaccine manufacturing capacity in South Africa, following the discontinuation of the state vaccine institute in the mid-1990s.
To date, Biovac has followed a backward integration strategy which involved moving from a distribution model to being a fully integrated vaccines manufacture.
In order to fast track the process of backward integration, Biovac has entered into a number of technology transfer agreements with a number of international partners for the formulation, filing and labelling of some of the current vaccines used by the Department of Health.
These technology transfer partnerships are aimed at enabling Biovac to formulate vaccines and to either fill vials or pre-filled syringes.
Today, we are celebrating one of these key Biovac's technology transfer agreements which was finalised in 2012 with Sanofi.
Sanofi is a French based multinational company that has been operating in South Africa for 46 years. One of its divisions, Sanofi Pasteur is dedicated to vaccines and is a leading provider of vaccines globally.
Sanofi is the only company to develop a stable fully liquid six in one vaccine. The clinical trials were conducted in South Africa and the vaccine was licensed in South Africa in 2014.
The agreement which we are celebrating its outcomes today has played a critical role in building Biovac's capacity to locally manufacture a hexavalent vaccine developed by Sanofi.
The agreement led to the technology transfer from Sanofi to Biovac through training of Biovac personnel at Sanofi plants in production, quality control, engineering and supply chain, exchange of processes and documentation to enable Biovac to manufacture the product locally; and training of Biovac personnel by Sanofi at the Biovac plant.
Several experimental Hexaxim vaccine formulated bulk were also made available for free by Sanofi for the purposes of training.
The South African Health Products Regulatory Authority (SAHPRA) granted Biovac a licence to manufacture Hexaxim in 2018, thus paving the way for Biovac to commence production locally.
To date, technology transfer of Hexaxim has been completed and validation batches have been produced.
Hexaxim is a vital component of Department of Health's expanded programme on immunisation (EPI), and more than three million children are vaccinated every year. The EPI currently vaccinates against eleven (11) childhood vaccine preventable diseases.
These are: Diphtheria; Pertussis (whooping cough); Tetanus; Poliomyelitis; Meningitis caused by haemophilus influenza b; Liver disease caused by Hepatitis B; Diarrhoea caused by rotavirus; Cervical cancer caused by human papilloma virus; Pneumonia; Measles and Tuberculosis.
If all these vaccines were administered individually, infants would need to receive ten individual injections which would not only cause discomfort to the infants but would also result in multiple visits to the clinic.
Multiple visits to the clinic has a high risk of default as there are costs and time involved for the caregiver needed with each visit. With defaults, these result in children not receiving the required vaccine (s) but also the risk of the child contracting a vaccine preventable disease and likely spreading to other vulnerable groups.
One way to mitigate the risk above is to combine the vaccine such that a child receives only one injection that protects against multiple diseases i.e. combination vaccine.
In an ideal world, all the above-mentioned vaccines ought to be combined into one injection, however the scientific characteristics make this impossible at this stage. The most that has been achieved is to combine the top six vaccines mentioned above into a single injection.
Ladies and gentlemenSouth Africa was the first African country to introduce such a vaccine and is the only one to date that has included it in the EPI program on the continent.
Fully liquid and ready-to-use, Hexaxim is the only hexavalent vaccine that has World Health Organisation prequalification status; and is also the only one available in both pre-filled syringes or single-dose vials.
As Hexaxim is a fully liquid, ready to use vaccine, no reconstitution is needed prior to administration which improves convenience for health care professionals.
By including six antigens in a single dose, hexavalent vaccines increase the coverage and compliance rates, lower the risk of delayed or missed vaccinations and reduce the complications associated with multiple intramuscular injections. Hexaxim also decrease containment sizes, cold chain handling and administration costs.
From a community perspective, such vaccines reduce clinic visits, vaccinators' errors, number of injections and side effects, which translate to better acceptability, convenience and increased compliance. Hexaxim also includes inactivated poliovirus vaccine which is an important step to ensure South Africa remains polio-free.
The ability to produce these vaccines locally represents a critical milestones for Biovac as it transitions Biovac towards the realisation of one of its main objectives: "to ensure a domestic capacity in vaccine production that will enable the South African health authorities to respond to disease outbreak emergencies". It is anticipated that this would result in a reduction in the costs for Hexaxim compared to international procurement.
The development also create an opportunity for scale-up and possibly supply to other countries in the Southern African Development Community (SADC) and sub-Saharan Africa. Furthermore, with the backward integration process and the technology transfer from Sanofi, significant skills transfer has become part of the process of establishing local formulation and filling capacity.
The benefit of skills transfer will continue to enable local technical skills to be established and allow South Africa to become an expert in the GMP production process on the African continent. This could allow future skills and training opportunities to the rest of the African continent.
In conclusion, this launch comes at a critical time as the global community continues to grapple with the devastating health, social and economic impact of the corona virus pandemic.
As the number of COVID-19 cases rises and the race for vaccines and treatments for COVID-19 intensifies, a number of countries including the US and the EU/UK have made deals with pharmaceutical companies such as Johnson & Johnson, Pfizer, Sanofi and AstraZeneca companies to purchase vaccines for their own citizens even before clinical trials are completed. Such deals are aimed at accelerating the development and production of select vaccine candidates in exchange for hundreds of millions of doses.
South Africa and the rest of the African continent face the risk that they will be the last to receive the vaccine or the vaccine will be costly, and no manufacturing capability would be established on the continent to respond to future pandemics.
In this regard, the launch of Biovac's locally produced vaccines is timely and will demonstrate to the global community South Africa's readiness to play a meaningful role in not only Hexaxim vaccine production and distribution, but other potential vaccines in the pipeline for COVID-19.
As the Ministry and DSI, we will continue to work with Biovac to strengthen Biovac's vaccine production and capacity utilisation of the Hexaxim manufacturing facility.
Once more congratulations to Biovac!!!
Thank you