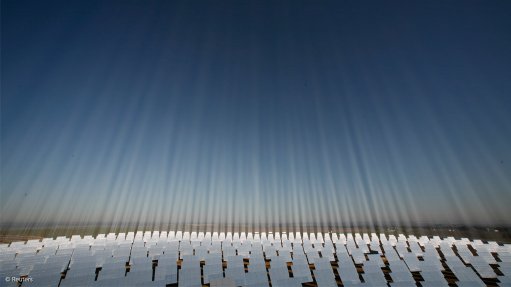 Photo by: Reuters
The Department of Energy (DoE) plans to launch its Solar Energy Technology Roadmap, which seeks to map solar technologies and the way these fit into South Africa's long-term energy plan, before the International Renewable Energy Conference in October.
Speaking at a session at the Sustainable Energy Seminar, which formed part of Sustainability Week, DoE energy programmes and projects deputy DG Wolsey Barnard noted that the roadmap would form a focal point of the conference.
An initiative between the DoE, the South African National Energy Development Institute (Sanedi), the Department of Science and Technology, German development agency GIZ and the International Energy Agency, the roadmap was aimed at developing the local solar industry to 2050.
Planning for this programme started in 2010.
Also speaking at the seminar, Sanedi Renewable Energy Centre of Research and Development manager Dr Karen Surridge-Talbot said the roadmap was currently before Parliament for approval.
"While we were working on it. . .we linked it to the Integrated Resources Plan, [which is] currently being updated. We have engaged with many government departments," she noted, adding that this had allowed for the perspectives of all the departments to be gathered and incorporated into the roadmap.
"Essentially, this [roadmap] will be the plan for rolling out solar energy technology," she said.
The roadmap was expected to prove invaluable to the country, which faced major energy constraints but was sun-drenched.
Further, development of the solar sector would help reduce greenhouse-gas emissions associated with energy production, while creating more jobs in the country.
In addition, as solar photovoltaic (PV) and solar water heating applications could be rolled out to households independently of the grid, these technologies could reduce demand on the grid in cities.
Further, these technologies could also contribute to meeting rural energy needs where many households were not connected to the national power grid.
The roadmap would focus concentrated solar power (CSP), solar PV and solar thermal technologies, while drawing attention to research and development into hybrid technologies and solar fuels.
The draft roadmap estimated that 40 GW of PV and CSP capacity could be developed by 2050, while an additional 4 GW of solar water heating capacity could be installed.
Meanwhile, Surridge-Talbot noted that Sanedi, after being approached by State-owned enterprise Eskom, was currently working on a charter that would allow interested parties to buy-in and fund carbon capture and storage research in future.