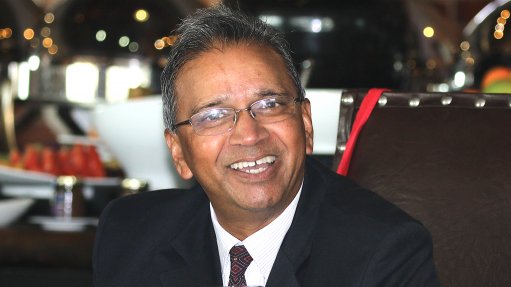 Dilley Naidoo, Director of Business Development, Rifle-Shot Performance.
JOHANNESBURG (miningweekly.com) – Let us re-pursue the exploration investment that catalysed South Africa's economic growth more than a century ago as a means of helping to rebuild South Africa's struggling economy.
That is among the ardent messages put over by mining sector performance enhancer Dilley Naidoo, the director of business development at Rifle-Shot Performance Holdings, who spoke to Mining Weekly in a Zoom interview. (Also watch attached Creamer Media video.)
Naidoo recalled how it was investment in gold and diamond exploration more than 100 years ago that led to so much mining and non-mining growth in subsidiary industries across the value chain and a myriad of mining catalysed services – all of them collectively creating an enormous number of jobs.
And it all began with exploration, funded from outside the country.
Right now, there is considerable potential to repeat what set the economy moving all those years ago ­– but in an infinitely better inclusive manner that floats all boats.
Critical deposits in areas yet to be exhaustively explored are there for the taking with the help of new modern exploration technologies.
Also there for the taking – from highly successful mining jurisdictions – are today's ways of attracting exploration funding.
Naidoo views investment in exploration for long-term sustainability as being a tremendous potential contributor to the gross domestic product (GDP) of South Africa, but other mining jurisdictions are investing five times more capital expenditure (capex) in exploration.
Mining Weekly: How can South Africa do as well as other mining jurisdictions in attracting investment in exploration?
Naidoo: If we just backtrack and we look at the experience that I've personally had in the mining sector, both locally as well as in Africa and globally, my experience has been that the mining sector is a challenging sector. It is tough, right from the funding side to convince investment. It is challenging from an operations perspective. It is challenging from the policies at various government levels, and it's also challenging from a labour perspective. But when you look at the initiation that took place in South Africa over 100 years ago … that was from an exploration perspective to go and say there was an opportunity in South Africa… and that made a major contribution to South Africa in terms of driving innovation, manufacturing, creating skills and job opportunities.
What do we do to set exploration investment off once more?
I'm a passionate South African and I'm a passionate mining industry sector person who believes that the mining sector, if we invest in exploration for long-term sustainability, can be a tremendous contributor to the GDP of our country. If we look from a global perspective, our understanding is there's approximately 5% of capex in mining that's going into exploration, that's looking at new opportunities, new minerals, and some of the new renewable energy opportunities that are driving new mineral resources. If we look at South Africa, we've done a dismal job in terms of investment of capex into exploration. My understanding is it's less than 1%. To be exact, it's 0.75%. Clearly, there is a big need to move and convince funders to invest in the exploration sector. Now, that's easier said than done. If we look, from an investment perspective, into exploration, we now have global challenges and African challenges from an investment exploration perspective in South Africa. Despite the challenges in countries like DRC, investors are grudgingly investing in terms of new commodities in areas like DRC. If you look globally, in South America, Canada, Australia and even Asian countries, investors are investing in those countries, so here is an appetite to invest, generally speaking, if globally there's 5% of capex going into exploration. So, what's the issue? Why are they not investing in South Africa? If truth be told, I think we need to, via our South African government, firstly, create an environment of investor-friendly policies …. through policy certainty. There's no doubt that once you create an environment, and you start exploration, you will create subsidiary industries across the value chain for manufacturing.
Rife Shot Performance Holdings