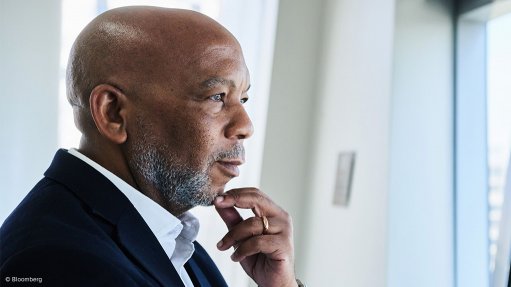 Electricity Minister Kgosientsho Ramokgopa
Photo by: Bloomberg
South Africa's electricity minister proposed a plan to stave off deeper power cuts by increasing the use of diesel turbines along with building more storage capacity to store the fuel.
State-owned utility Eskom Holdings will need to increase its budget for diesel, Minister Kgosientsho Ramokgopa said, according to a copy of a presentation seen by Bloomberg. A special dispensation could reduce the cost by allowing Eskom to directly purchase the fuel, the plan showed.
The strategy would result in the increased use of fossil fuels to mitigate electricity shortages in the most industrialized nation on the continent. In the worst case scenario, South Africa could reach stage 8 power cuts, meaning 8,000 megawatts would be cut, according to the presentation to the governing African National Congress' national executive committee.
Diesel turbines running at maximum capacity can insulate the nation from two stages, about 2 000 MW, of power cuts, the presentation showed.
Ramokgopa is also asking for the extended use of coal-fired units set for decommissioning over the next few years. An update of the schedule to shut stations down must be approved by cabinet by the end of June.