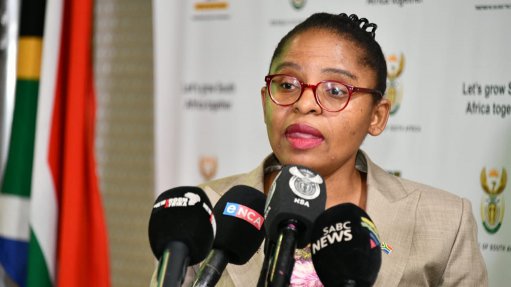 Minister in the Presidency Khumbudzo Ntshavheni
South Africa's Electricity Minister Dr Kgosientsho Ramokgopa is having discussions with Karpowership about the potential for introducing the floating gas-to-power plants under a power purchase agreement (PPA) with terms of between five and ten years, instead of 20 years.
In providing an update on the reforms being pursued under Operation Vulindlela, including various electricity reforms, project management unit head Rudi Dicks reported that powerships were not among the Risk Mitigation Independent Power Producer Procurement Programme (RMIPPPP) projects expected to progress to financial close in the coming months.
This, after Minister in the Presidency Khumbudzo Ntshavheni indicated that five more RMIPPPP projects were expected to reach financial close in the current quarter, bringing to eight the number of hybrid projects to proceed under the much-delayed, so-called emergency procurement round.
To date, only three Scatec projects, involving 540 MW of solar photovoltaic generators, coupled with lithium-ion batteries with a capacity of 225 MW/1 140 MWh, have entered construction for a total of 150 MW of dispatchable capacity.
The exclusion of the powerships related to the fact that the three projects named as preferred bidders under the 20-year RMIPPPP had not yet received the environmental authorisations needed for them to proceed at selected docking sites in Richards Bay, Ngqura and Saldanha Bay.
"There is another dynamic that we have also introduced . . . that there is a conversation to be had around the term of these projects.
"Of course, the initial term has been 20 years, we have taken the view as Necom [the National Energy Crisis Committee] that a shorter-term period would have to be looked at, potentially between five and ten years.
"It's really because this is an emergency intervention . . . [and] this, of course, goes to the heart of whether one has to sign a 20-year PPA.
"This is the conversation we are having, and Minister Ramokgopa is already having engagements with Karpowership with regard to these sorts of interventions," Dicks said.
Ramokgopa has indicated previously that, should powerships be deployed to help reduce loadshedding, the PPA term should be between three and five years. The increase in the timeframe to between five and ten years might reflect the unit cost implications of shortening the term to below five years.
Meanwhile, Ntshavheni reported that project agreements had been signed for 25 preferred bidders from Bid Windows 5 and 6 of the renewables programme, amounting to about 2 800 MW, of which 784 MW was already in construction.
She also reported that, since amending Schedule 2 of the Electricity Regulation Act to remove the licensing requirement for generation projects of any size, more than 100 projects were at various stages of development, representing over 10 000 MW of new generation capacity and over R200-billion of private sector investment.
Dicks said that, following the lifting of the licensing threshold for embedded generation projects from 1 MW to 100 MW in August 2021, and the subsequent removal of the threshold altogether in December 2022, there had been a surge of private interest in electricity generation that continued to "outstrip expectations".
He showed that the number of distributed generation projects above 10 MW in size registered with the National Energy Regulator of South Africa had jumped to 2 427 MW-worth of registration between January and March this year.
This was up from 1 664 MW-worth of registrations for 2022 as a whole, which itself represented a material rise from the 134 MW registered during 2021.
Dicks also highlighted the strong rise in requests for grid-connection budget quotes from Eskom's Grid Access Unit, which stood at nearly 13 400 MW, with budget quotes having been issued for 4 321 MW.
Another 1 124 MW was in the connection phase, with 181 MW already connected.
For the coming quarter, the main reforms in the electricity sector would relate to the formal introduction of the Electricity Regulation Amendment Bill to Parliament to establish a competitive market in the electricity sector, as well as the appointment of an independent board for the National Transmission Company of South Africa and the approval of the licences needed to advance the separation of the company from the rest of Eskom.