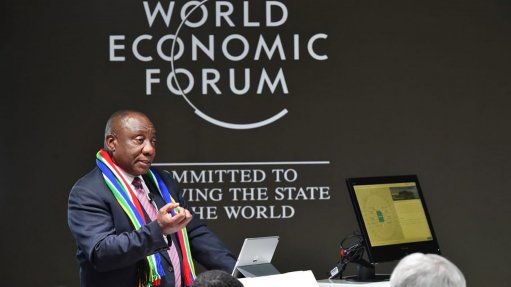 President Cyril Ramaphosa
When President Cyril Ramaphosa spoke out about South Africa's "nine lost years" at a dinner in Davos this week, Old Mutual CEO Peter Moyo said the cost of the period crystallised for him.
"The President spoke about nine wasted years and it was the first time I heard that phrase. It made me think about how the country had been run in the last nine years.
"We lost some of the gains we had. It was a period in which we could have done much better as a country.
"Yes, there were some exogenous factors, but we scored a few own goals," said Moyo, who is part of the high-profile public and private sector delegation to the annual World Economic Forum (WEF) meeting in Switzerland.
'Lost decade'
Ramaphosa has, in several speeches, referred to the period from 2008 to 2018 as a lost decade. At Davos, he edited the period down to nine years, which coincides with the period when former President Jacob Zuma was in office.
"For the first time, we are seeing the government doing the right things on corruption. I think it's the first time we are seeing corruption and its effects being discussed openly," said Moyo.
Last year, Ramaphosa attended the WEF in Davos as the newly-minted president of the African National Congress, and he promised action against corruption. This year, he reported on progress.
'Good mood'
"I actually think the mood has been very good about South Africa. I get a sense that the outlook is positive," said Moyo, who added that there was significant interest in emerging markets and also in the outlook for Africa.
"They (investors) still believe that Africa will get back onto the (global) radar screen. It's very positive about the Africa outlook. In particular, people are beginning to be more positive about the East African bloc. It is the most organised bloc (the East African Community bloc).
"If there is a region that has done a lot in terms of the fourth industrial revolution, it is East Africa. When you talk about financial inclusion, Kenya keeps coming up time and time again. And (there is a lot of talk about) how organised Rwanda is: people are saying that President Paul Kagame is a very good leader.
"They are moving in the right direction," said Moyo.
Moyo said an emphasis this year had been on how well countries are prepared for the fourth industrial revolution - the automation revolution, which could change work and business as comprehensively as the first industrial revolution did.
Automation revolution
"At Old Mutual, for example, we now have robotic process automation.
"How will that affect employment patterns? We have the applications – the productivity gains tend to follow later. We have to think about it. If these processes are cutting 5 000 hours, whose 5 000 hours are those?
"How do we retrain our people for other things? We live in a country where unemployment is very high. How do I retrain people to add more value? At Old Mutual SA, we now say 'we don't guarantee employment, we guarantee employability'," he said.