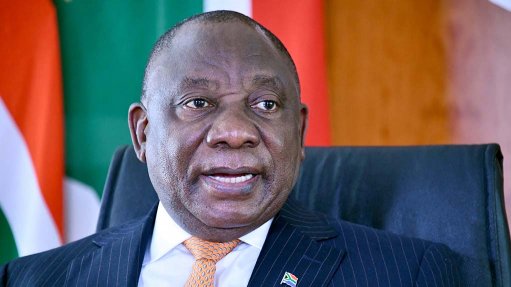 President Cyril Ramaphosa
South African President Cyril Ramaphosa will hold discussions with the leadership of the National Education, Health and Allied Workers' Union (Nehawu) over its demands for better working conditions for those in the frontline of battling Covid-19, his office said.
In a statement issued late on Thursday, the Presidency said the meeting followed the union's submission of a memorandum to Ramophosa relating to, among other issues, improving occupational health and safety in the context of the pandemic, as well as remuneration.
It said Public Service and Administration Minister Senzo Mchunu and Deputy Minister of Health Dr Joe Phaahla would also participate in the meeting at Ramaphosa's official residence in the capital Pretoria.
Earlier this week, Nehawu picketed outside the Union Buildings complex in Pretoria housing Ramaphosa's offices, demanding an eight percent salary increase and better protection for its members against the coronavirus, which has infected some 667 049 people in South Africa, the 10th highest national tally in the world.
Out of these cases, Covid-19 has claimed 16 283 lives, while 595 916 people in the country have recovered.
In July, Nehawu threatened a series of protest action in coming months, saying its members in the health sector were poorly paid despite facing high risk while combating the pandemic, exacerbated by shortages of personal protective equipment (PPE).
It said workers had been victimised for raising questions about the lack of PPEs, the failure to daily screen health workers and the refusal by managers to allow workers to go on self-isolation if they reasonably suspected that they had been exposed to the virus.
Nehawu, which is South Africa's largest public sector union, has also been irked over Ramaphosa's failure, until now, to respond to a memorandum delivered to his offices on September 3.
The union is an affiliate of labour federation Congress of South African Trade Unions, which plans a stayaway across all sectors of the economy on October 7 against the corruption which has surrounded the national response to the Covid-19 pandemic, including dodgily-awarded procurement tenders.